There is literally nothing more Scandinavian than a good old Smörgåsbord. Except, Smörgåsbord is a Swedish word and in Norway and Denmark, it's called something else (Koldt Bord (cold table), and similar). But really, it's all about food and our way of grazing through a nice, big wonderful lunch.
No matter which of the Scandinavian countries you are in, follow this guide and you won't go far wrong, bar a few regional variations. As long as there is enough aquavit, people will be happy.
The word smörgåsbord comes from the Swedish word smörgås, meaning 'open sandwich' or 'buttered bread', and bord, meaning 'table'. If you translate it very literally, it could also mean Butter-Goose-Table, but that would be wrong, although quite funny.
A smorgasbord is basically means a buffet made up of many smaller dishes: 'a laid-out table'. The traditional smörgåsbord is slightly different, depending on the country you are in. Just follow the guidelines of what to eat and in what order and you'll be all right, no matter where you are. It's our tapas, our buffet, our small-plate-phenomena.
The term smorgasbord first cropped up outside Scandinavia during the 1939 World's Fair in New York, when a Swedish restaurant served a smörgåsbord as we know it today. This, however, was not the first occasion of a smörgåsbord, as this was more of an accidental invention. Many centuries earlier, people in well to-do homes had what was known as an "Aquavit Table". They would return back from whatever they had been doing (hunting moose or looking after their estates etc) and enjoy a few snacks. A few hours prior to dinner, shots of aquavit were served, likely as an afternoon pick-me-up. These were accompanied by a selection of cheeses, pickles and meats laid out on a side-table to snack on before the main meal. Over the years, the choice of dishes expanded and, one day, the Aquavit Table because the main event instead of the actual lunch or dinner. Clever marketing people at the World Fair coined a new word that since then has been adopted into a word that works in many languages.
The essence of a real smörgåsbord (or cold table) is all about taking your time to eat and talk to your guests as you do it – and share food, conversation and time. There is lots of food, granted, but we spend many hours eating it. No smörgåsbord ever took an hour – and there is no time limit on how long we might sit there – the Danish Christmas Table, for example, can easily take an entire afternoon and end with an early dinner and most certainly result in quite a hangover, too. This is why these are usually done during high seasons such as Christmas, Easter and Midsummer when people plan big get together and have time to relax and enjoy both food and company to the max.
Traditionally, a smörgåsbord is served in 'rounds' – on a Swedish one, usually everything is set out at the start of the meal in buffet style, whereas in Denmark, each round is brought to the table one after the other in strict order and shared round.
It's tricky to know how to maneuver a smörgåsbord if you are a rookie, especially if you are in Denmark and nobody has told you that there are seven more rounds of food to follow the one you are eating. What foods go together? Can you put remoulade on liver pate (answer: No) and do you ever put herring with prawns (answer: NEVER). How much aquavit are you allowed to drink? (Answer: As much as you can, but not so much so that you appear drunk until everyone else is).
Rookies will fill a plate like they are at an all-you-can-eat buffet. They will also hit the aquavit hard – and you just know that no rookie will last till the end. Many a newbies have fallen off the Smörgåsbord wagon at round 2 and missed the party.
The biggest smörgåsbord of the year is at Christmas. This is the julbord (literally meaning 'Christmas table') and is also the one that takes the longest to complete. There are many dishes and rounds – and there will absolutely be beer and aquavit, too. And singing. Lots of singing.
During December, people across Scandinavia will attend many different julbords. There is the work julbord, the friends' julbord, the julbord for the golf club, the book club … The most intimate one is always on Christmas Eve with the family (less drinking at that one). Then there is the smörgåsbord at Easter, Midsummer and birthdays.
The dishes on a Scandinavian smörgåsbord vary seasonally and regionally, but the main dishes are the same – and these are also what connects us Scandis together, despite living in a place 3 ½ time the size of Britain and with quite a varied food culture. This is where you will always find herring and meatballs!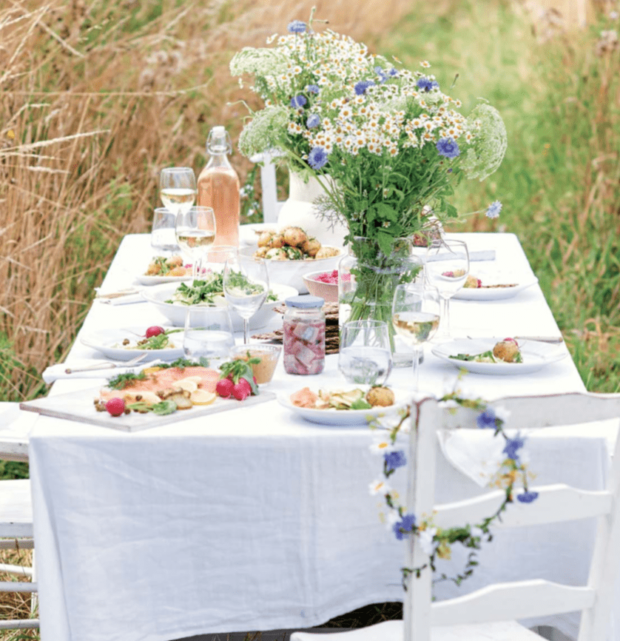 Photo: ScandiKitchen Summer Cookbook – by Bronte Aurell, photo by Pete Cassidy – click on photo for link to buy a signed copy.
The order and how-to of a good Smörgåsbord
Always eat everything with a knife and fork – NEVER with your hands.
Always start with the herring. It needs its own plate, because it's a strong fish and you don't want it to flavor all the other foods. We eat the herring first – and it needs a glass or two of Aquavit to go with it – it pairs well in flavor. Yes, you have to drink the whole shot and smile through gritted teeth. From this follows other fish, sliced meats, warm meats, salads and other warm dishes, then cheese and then – finally – dessert. And coffee.
Everything is served buffet style or passed around the table in small servings. You will never find pre-made open sandwiches on a smörgåsbord – you are supposed to make your own as you go along – and you will also rarely find many 'fillers', such as warm potatoes or gravy (it is not a dinner, it is a cold table with a few contradictory warm dishes included).
A good old smörgåsbord may sound a little complicated at first, but it is a very enjoyable way to spend 4-6 hours with some really nice people you get along with. While Scandinavians will never, ever talk to you at the bus stop or in the supermarket, once you have shared a few merry tunes around the smorgasbord and a few shots of aquavit, you'll be making new friends in no time, perhaps even find yourself fluent in a Scandinavian language by song number three.
The basic order of the smorgasbord – a guide
Round one
Pickled herring (a few different kinds, served in bowls) and shots of cold aquavit. Singing at this point is optional. Beer is the traditional drink served with smorgasbord. You can drink wine, but if you mix that with wine, it just gets you even more drunk.
Suggestion: A good plain onion herring and then Mustard herring for Swedish, Curried herring for Danish, spiced herring or tomato herring for Norway.
Round two
Fish and seafood dishes. Smoked or cured salmon (with dill & Mustard sauce). Serve bowls of good quality prawns, smoked mackerel (either fresh or literally from a tin), skagenröra, halves of hardboiled eggs or any fish other than herring – even small, warm fried plaice fillets (quite a Danish thing – goes well with remoulade dressing). Lumpfish roe and creamed cod roe on the side.
Round three
Cold meats and pâté. Smoked ham, salami, liver pâté (a firm favourite amongst all three countries), cold roast beef, rolled rullepolse sausage – any deli meats are served in this round, along with pickles and/or toppings.
Round four
Warm meats. Meatballs (Danish, Swedish, Norwegian), roast pork (Christmas only for the Danes), mini sausages – anything warm is served for this course. If you want to serve Janssons frestelse (Jansson's Temptation – a traditional Swedish gratin-style casserole made with potatoes, onions, cream and sweet pickled sprats) for the smörgåsbord, this is the course to do it. It's mainly served at Christmas, but can also be served at Easter with some lamb (The sprats go well with lamb). In the summer seasons, serve a light quiche instead of heavier meats – Vasterbotten cheese quiche, mushroom pie or similar. But always meatballs.
Any warm sides, such as red cabbage, can be served here – but again, warm cabbage is usually more of a winter thing. Opts for a coleslaw style in the summer.
Round five
Cheese selection. Optional decorative grapes that nobody will eat and maybe a slice of green pepper that you can put in the bin after. 2-3 cheeses is enough. Go for a good blue cheese such as Kornblost or Danish blue, a solid harder cheese – Vasterbotten is always a hit here. And a milder one such as Creamy Havarti (Åseda). For the love of Thor and Freya, get yourself a good few cheese slicers.
Round six
Dessert and coffee. Any soft cake, such as a strawberry Midsummer cake or a berry cake, works here and a nice selection of little fika treats goes well too – there won't be many hungry people at the end of a smorgasbord, so limited selection is fine. At Christmas, you might have your creamed rice pudding, in the summer a more fruity option. Or simply little marzipan/chocolate treats with the coffee. By this time, there will be no more singing, just attempt to manoeuvre a fork.
Stuff to always serve alongside a smörgåsbord:
Rye bread, crusty bread and crispbreads, bowls of salads (beetroot salad, mainly), pickles, condiments, sauces such as dill and mustard sauce, Mayo, Danish remoulade – and more.
Traditional drinks for smörgåsbord: Beer and aquavit.
Round Seven
Bugger off – food
In Denmark, the last dish serves is called Skrub-Af Mad, this means "Bugger off, food" – it is served right at the end a few hours after the last bit of the smorgasbord – it is a signal for people to leave. This might be a light soup, a hotdog or similar.