After the long, dark nights of winter, Easter and the arrival of spring are truly celebrated in Scandinavia. Whether spent in the south welcoming the return of the spring flowers or spent escaping to the mountains in the North, getting in a few last runs on the slopes, Easter is a time of renewal for Scandinavians, celebrated with good food and good company (and perhaps the odd shot of aquavit or two). Peek into the history of the Viking north and you'll find plenty of magic things that add to the richness of Scandinavian Easter celebrations.
Here's our quick guide:
The lingo
Easter in Scandinavia is called
Påsk (Sweden)
Påske (Denmark, Norway)
Pääsiäinen (Finland)
An Easter egg is known as a Påskägg / påskeæg / påskeegg – and is gifted on Easter morning.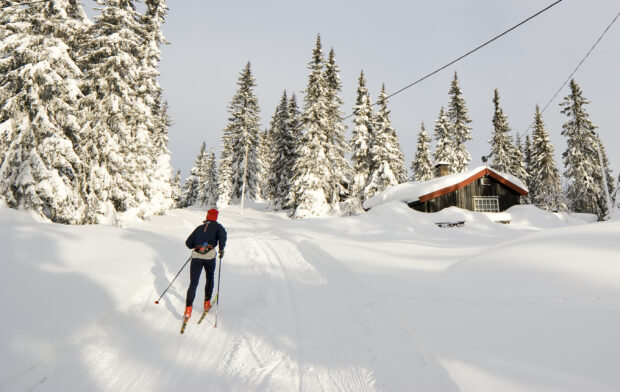 Easter in Scandinavia means the last of the skiing.
Well, except for in Denmark, where there are no mountains. Everywhere else, people head for the last of the snow somewhere high up.
More than anything, it's a sign that finally, the long dark nights are ending.
The hut (Hytte)
Most Norwegians will head for a wooden hut somewhere, as remote as possible and as far away from people they don't know as they can get. If it has an outdoor toilet and no running water, even better.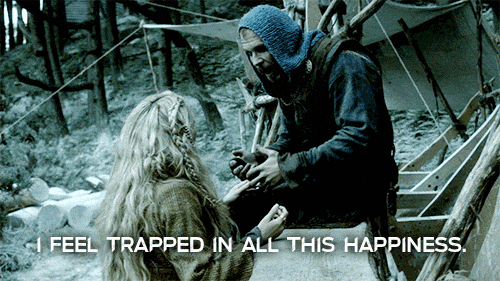 It's still all about Vikings
Our forefathers celebrated something called Ostara, the spring Goddess, around spring Equinox 20-21 March. Freya and Thor were often celebrated, too. This was all about gathering and giving of eggs.
Photo: Absolutely nothing to do with real vikings, but in the absence of Viking photography….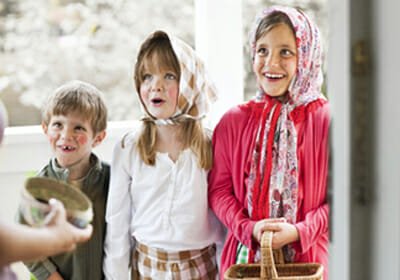 Swedish and Finnish kids go trick'or'treating at Easter.
Well, there are no tricks, only treats as kids dress up as Easter witches and go door to door, asking for sweets. These Easter witches are called Påskkärring in Sweden.
In Finland, the mini witches sing the rhyme: Virvon, varvon, tuoreeks terveeks, tulevaks vuodeks; vitsa sulle, palkka mulle! (I wave a twig for a fresh and healthy year ahead; a twig for you, a treat for me!) and offer fresh willow twigs in exchange for sweets.
Easter celebrations in Sweden are also rooted in the old Christian witch-hunt times. The celebrations last from Maundy Thursday until Easter Monday. In the olden days it was thought that on Maundy Thursday, all the Witches would fly off on their broomsticks to the Blue Mountains in Germany to have a weekend of fun and dancing with Satan.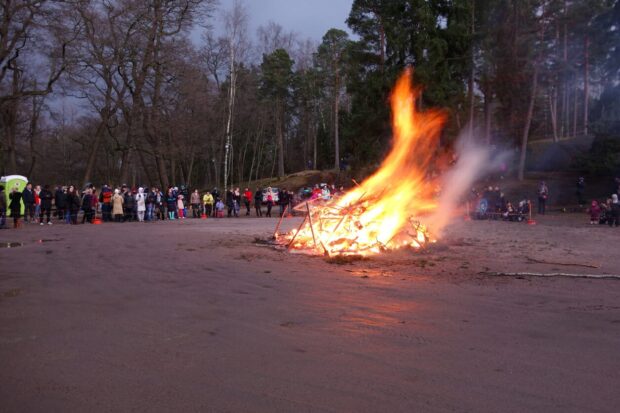 Let's light a fire
In many western Finnish villages, bonfires are still lit to drive away evil spirits on the evening of Easter Saturday.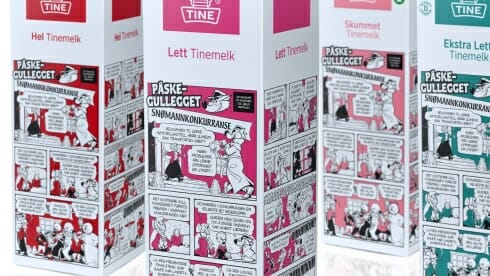 Norwegians become obsessed with dark crime
For some reason, Norwegians read crime novels at Easter. Sales of these more than triple as everyone buys the latest who-dunnit to bring to the wooden hut. These books are known as Påskekrimmen.
This is such an important thing the milk producers even put little who-dunnits on milk cartons so that people can solve crimes over their cornflakes.
If you spot a Norwegian out and about at Easter, his backpack will contain 2 crime novels, an orange and a Kvikklunsj chocolate. But unlikely you will see any, they are all hiding away from people.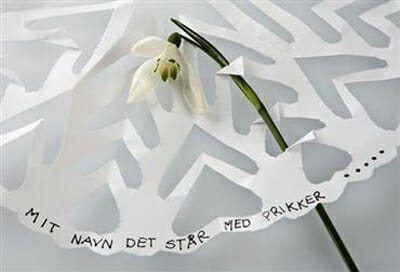 Write your name with dots
The rhyme goes: I write my name with dots, careful they don't sting you (Mit navn det star med prikker, pas på de ikke stikker".
The Danish tradition of writing teaser letters (gækkebreve) is a wonderful one, an old tradition since early 1800's. Cut out a pretty pattern in paper, write a rhyme and add your name in dots and enclose a snowdrop flower from your garden (the symbol of Easter in Denmark). If the receiver guesses who it is from, you have to buy them an Easter Egg – and vice versa. Magically, no grandparents ever guess who their letters are from, and thus a great source for getting LOADS of sweets.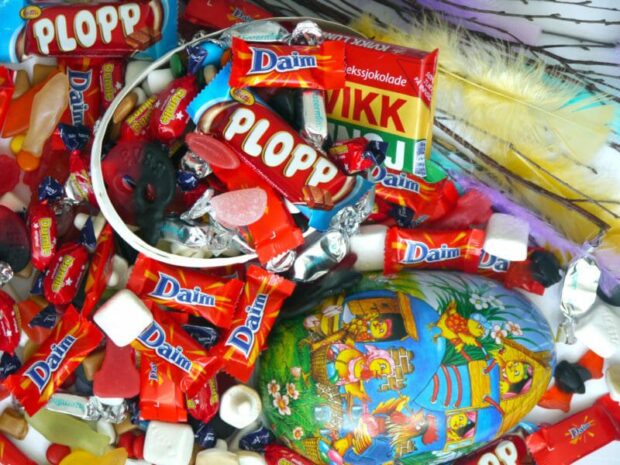 The perfect Easter egg
Scandinavian Easter Egg traditions are people buying an empty cardboard shell and filling it with their favourite sweets, rather than just a huge chocolate egg. We like a mix of everything – sweet, sour, salty, liquorice, chocolate, marshmallow, and perhaps and extra Kvikk Lunsj, Kexchoklad or marzipan eggs for good measure.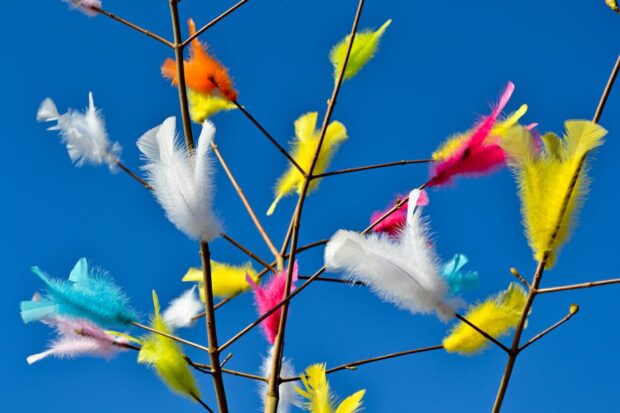 Fancy a bit of whipping?
You'll see many places with decorated twigs – feathers and other types of decorations, depending on area. This is a Påskris – Easter Twigs – to signify Christ's suffering – originally used to lash out at people as a tease – and in some areas, get people out of bed on Good Friday morning. Nowadays, used mainly as decorations.
Make your own: Get some twigs, decorate with feathers. Whip your flatmate and tell him it's tradition.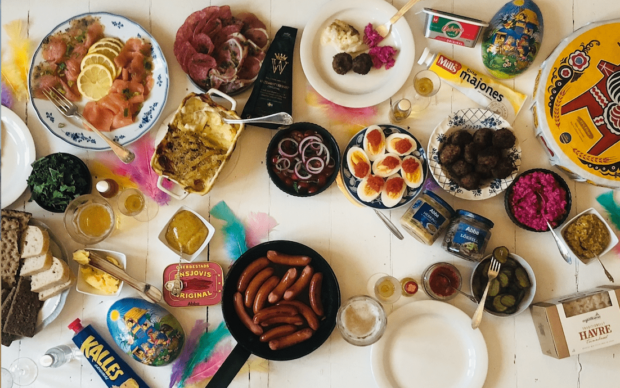 The Smörgåsbord
We never turn down an opportunity for good smörgåsbord. Essentially, the same as at any other high season, although with more fish and egg. This is the time to add new salmon to the spread, a few extra fish dishes and of course, egg in different shapes and sizes. We also recommend adding Jansson's Temptation and pair it with some new lamb – it works so very well.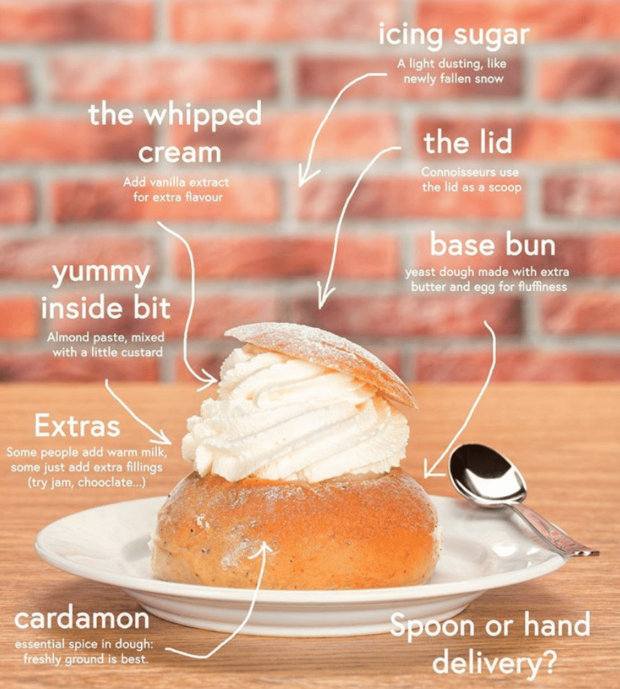 Goodbye, lovely buns
Easter is the absolute last time you will see Semlor buns anywhere in Sweden. Most of these lovely luscious Lent buns are already gone at this time of the year, but for those still clinging on, Easter marks the final hurrah, signalising the end of the season. No more semlor until next year. Nope, none anywhere – all gone.
We stock Easter goodies from all over Scandinavia – both online and in our café deli. Pop by and see us – we will be open all over Easter except Easter Monday when we will be busy hunting for eggs and whipping each other with twigs and reading crime fiction. That's how we roll.