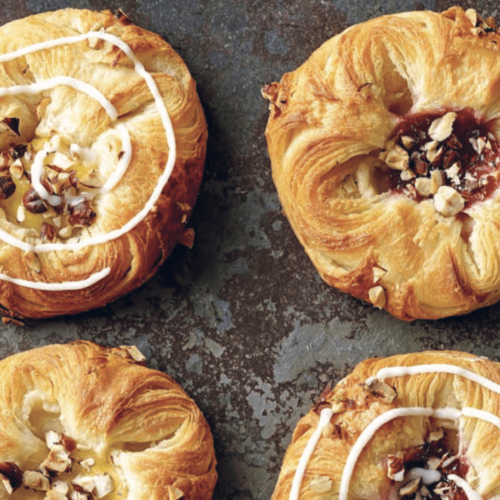 Print Recipe
Danish Baking – Custard Crowns (Spandauer)
You see these everywhere across the world – but make them at home and you'll know the real taste. These are absolutely divine. Granted, it takes a bit of work – but freshly baked Danish pastries, well, there is nothing quite like it.
Instructions
On a lightly floured surface, carefully roll out the dough and cut into 12–14 squares of around 10 x 10 cm each.

Place a generous teaspoon of remonce almond paste into the middle of each pastry square, then carefully fold each of the 4 corners in to meet in the middle, using the sticky remonce to hold the corners down. Use your thumb or a fork to secure the pastry. Place the pastries on the prepared baking sheets, then cover with cling film and set aside to rise for 20 minutes.

Preheat the oven to 200°C (400°F) Gas 6.

Brush the tops of each pastry with a little of the beaten egg mixture. Add a teaspoon of your preferred filling (pastry cream OR jam) into the centre of each square. Lastly, add a sprinkling of chopped toasted hazelnuts to the centre as well.

Bake in the preheated oven for around 10–15 minutes or until golden brown, then remove and allow to cool before decorating. You may need to bake these for longer – it really depends on your oven, but they need to be baked through. Please note there is likely to be some butter spillage – keep a tray to catch the spill during baking.

To make the icing, mix the icing sugar with
 1–2 tablespoons of hot water, adding more if needed. You are looking for the consistency of runny honey. Fill the piping/pastry bag and pipe a loose spiral of white icing/frosting around the edges of each cooled pastry (too soon and the icing will melt).
Tip:
You can make one batch of pastry dough and make two kinds of pastries – simply half this recipe to 6-7 Custard crowns and use the rest of the dough for your other choice. Please note you must NOT roll up the dough and re-roll out, this will ruin the layers.