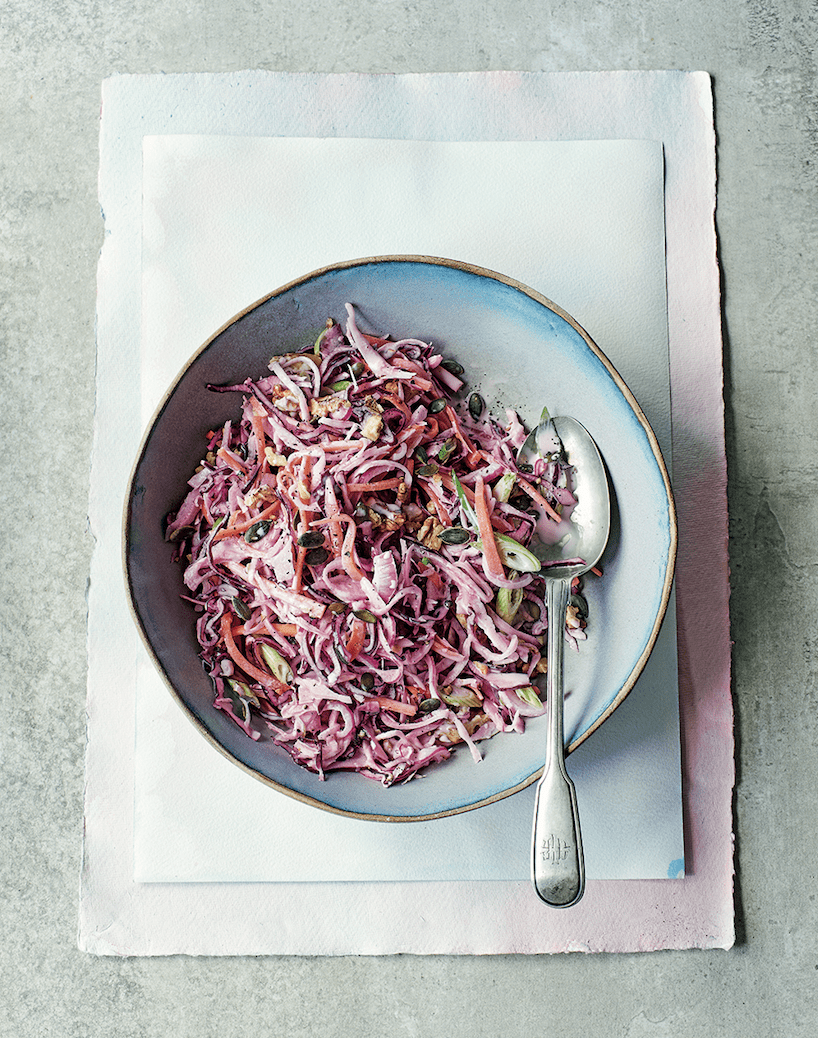 Print Recipe
Bronte's summer coleslaw
There's coleslaw and then there is coleslaw.
I love coleslaw, I really do, but I detest the gloopy factory-made rubbish that seems to have become standard fare in supermarkets all over. If you ask me, the secret to a good slaw is lightly pickling the cabbage base before adding a punchy, flavourful dressing.
Ingredients
CABBAGE BASE
300

g

shredded white and red cabbage

1

red onion

2

large

carrots

100

ml

water

+ 1 tbsp

100

ml

white wine vinegar

+ 1 tbsp

3

tbsp

icing' sugar

or confectioners' sugar

½

tsp

salt
DRESSING
3

tbsp

mayonnaise

3

tbsp

buttermilk

1

tbsp

icing' sugar

or confectioners' sugar

1

tsp

Dijon mustard

1

tsp

white wine vinegar

only if needed

½

tsp

celery salt

1

tsp

grated fresh horseradish or horseradish sauce

salt

ground black pepper
TO SERVE
3

spring onions/scallions

sliced

50

g

toasted walnuts

chopped

30-35

g

pumpkin seeds
Instructions
Place the shredded white and red cabbage in a large bowl. Finely slice the red onion into half rounds, and then grate (or julienne, if you can be bothered) the carrots and add both to the bowl. In another bowl or jug/pitcher, mix together the water, white wine vinegar, icing/confectioners' sugar and salt. Pour over the cabbage, then cover the bowl and shake well. Leave for at least one hour, ideally two – shake it once in a while. You're lightly sousing the cabbage, ensuring it is easier to eat and digest.

Press the cabbage free of excess vinegar liquid and leave in a sieve/strainer until excess vinegar has drained. The cabbage will now be softer and the onion appear almost a little cooked. Make sure the vinegar is well pressed out or the end result will be too acidic.

Mix together the ingredients for the dressing. Mix the dressing with the slaw and taste – it should be a bit tangy. If not, add a teaspoon extra of vinegar (this depends how much of the pickle juice was pressed out – it is easier to add a bit than remove if too much).

Just before serving, fold in the spring onion/scallions and toasted chopped walnuts. Sprinkle over the pumpkin seeds for extra crunch. This coleslaw is extra delicious on days two and three – when it will be pink (if you have used red cabbage).