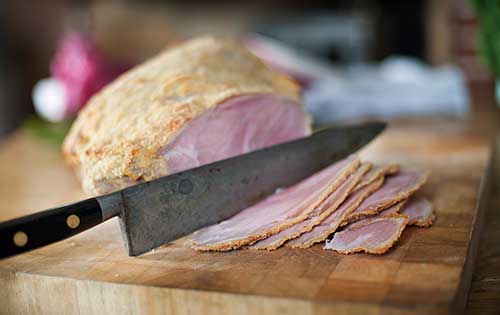 Print Recipe
Swedish Christmas Ham - Topping
We get asked about 11 times a day on average how to do the special topping (

julskinka

griljering

) for the Swedish Christmas ham. It is not secret and we're super happy to share a recipe.



Swedish Christmas Ham ('Julskinka') is made special by its mustard crumb topping. It's really delicious - it adds texture and crunch and a lovely tang from the mustard.
You only add the topping before you serve, so first you need to get yourself a cooked ham. We sell the real Swedish hams ready cooked - and ready to eat. Delicious, lovely and succulent - perfect for your Swedish Christmas Julbord.
If you are using a pre-cooked ham, first open the packet, then remove the netting. Then clean up the ham by cutting away the fat layer on top - this can take a little while, so be patient and use a good sharp knife.
Once the fat layer has been removed, place the ham on your oven tray.
Ingredients
1

egg

3

tbsp

wholegrain Swedish mustard

1

tsp

sugar

½

tsp

salt

60

g

breadcrumbs
Instructions
In a bowl, whisk together the egg, m

ustard, sugar, salt and

half the breadcrumbs.

Once combines, spread the paste all over the top of the ham. Once you have an even layer on top, add the rest of the breadcrumbs evenly across the topping.

Pop the ham under the grill for about 15 minutes - but watch carefully so that the topping cooks, but does not burn.

Swedish ham is served cold or just a bit warm, so no need to worry too much about heating up the whole ham.

Serve whole on the Julbord Christmas table - and slice as needed. Serve with a good sweet coarse mustard with bite - and of course Smorgasgurka pickles.