Crayfish Season
Picture this: a little, red wooden house set by a calm, blue lake that sparkles silver from the rays of the summer sun. Rolling green hills and never ending meadows full of wild flowers and berries, surrounding everything and everyone on pure postcard bliss.  Welcome to the picture perfect Swedish late summer evening and welcome to the Crayfish Season: it's time for Kräftskiva (or, if you'd rather: a somewhat messy event involving lots of crustaceans and hard liquor).
Every year in August, Finnish and Swedish people all over the world get excited by the start of the crayfish season. The timing of the season is founded in local law which dictates that Scandinavian freshwater crayfish must only be fished in late summer and early autumn. Although in this time of easy imports where crayfish is available all year round, tradition still holds strong and the season is very much part of the Swedish and Finnish calendar of events, thirdly only to Midsummer and Eurovision.
Crayfish was first mentioned by Aristotle back in the really old days but as a delicacy its big break came in the 1800's when Monsieur Napoleon developed a thing for the 'écrevisses' and got the whole of France hooked as a result. Initially crayfish were plentiful in rivers and lakes all across central and northern Europe, but as this gastronomic trend spread across the continent, the crayfish stock was in steep decline. A lethal pest almost wiped out the entire stock in the early 1900's and local laws were quickly introduced to limit the availability of the delicacy thus saving it from extinction.
Today most crayfish in the world is farmed, although the ultimate delicacy for a crayfish party is still locally sourced Swedish or Finnish beauties. These are seriously pricey, though, so most people settle for the almost-just-as-good imported, cooked and quickly frozen type, usually imported from China, Turkey or other fancy far-away places. Alternatively, if you happen to have your own Swedish lake handy, you can opt for some night time fishing with wire traps – these buggers are nocturnal and will do much to avoid your dinner plate.
The difference between crayfish you buy at your local fishmonger outside Sweden is that the Scandinavian kind is cooked in a brine sauce of dill, then some dill and a bit more dill thrown in for good measure. Crayfish is, like lobster, cooked alive (sorry if you are vegetarian and reading this) which is why most people who do not have access to live crustaceans tend to buy the frozen kind – these have been cooked to the Scandinavian recipe already and all you need to do is remove from freezer and wait a while.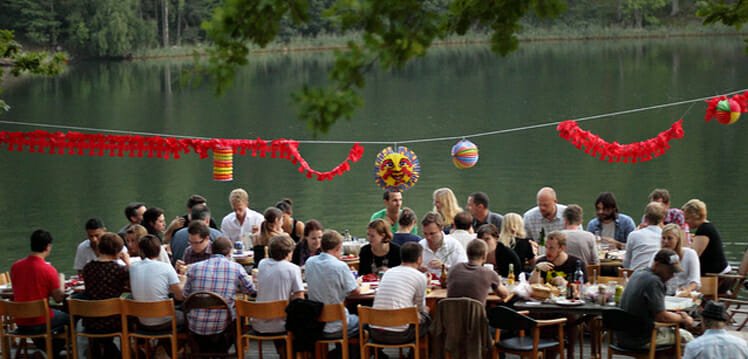 So, how do you go about celebrating the humble crayfish, Scandinavian style? A traditional Kräftskiva, or Rapujuhlat as it is called in Finland, typically starts late afternoon or early evening. A long table, which is usually outside in the garden or park, is decorated with colourful tablecloths; there are silly special crayfish party hats and bibs available for all guests to wear (surprisingly, with pictures of crayfish on them), lanterns depicting the Man in the Moon as well as festive crayfish cut-out garlands.
The crayfish is served cold in a big bowl on the table, lovingly decorated with some more dill. Eating crayfish is a long process: a crayfish party can last well into the night, so mountains of toasted, white bread is also served to ensure the aquavit is soaked up along the way. It's always preferable that the guests don't end up too wobbly too quick and get ideas about skinny dipping and sing-songs before time.
Blocks of the infamous Västerbotten cheese (a 12 months aged Swedish cheese from the Västerbotten area, not unlike parmesan in consistency but without the smell of feet) is also served. Along with this is an abundance of cold beers and, of course, no Scandinavian party is complete without the presence of the old Aquavit – a grain based, flavoured strong liquor that is served ice cold.  Some people practice "one shot for every claw" but as you'll eat your way through a good dozen crayfish during the course of an evening, pacing yourself below this is recommended – at least until someone starts singing.  Singing is a good sign that you may as well just give in and join the fun – and there's no drinking without any singing, according to Swedish law (nor is there any singing without drinking, or any time for silence, according to most local Crayfishionados).  A few of those aquavit and you'll automatically be able to sing all the songs in fluent Swedish.
Crayfish is eaten with the hands and it is a lovely, messy affair.  If you are invited to one of these special parties during the season, do remember that it is absolutely a requirement to slurp noisily as you suck up the dill juices from the claws and belly of the "kräft" as well – a sign that you are truly initiated into this wonderful tradition.  Before you know it, all the people around the table will be your best friends, you'll be planning next year's holidays with Björn and Agneta in Uppsala and maybe even having a cheeky footsie session with Lars under the table.  Suddenly, after you've thrown in a swarm of evil mosquitoes, that little red house by the lake doesn't feel that far away after all.