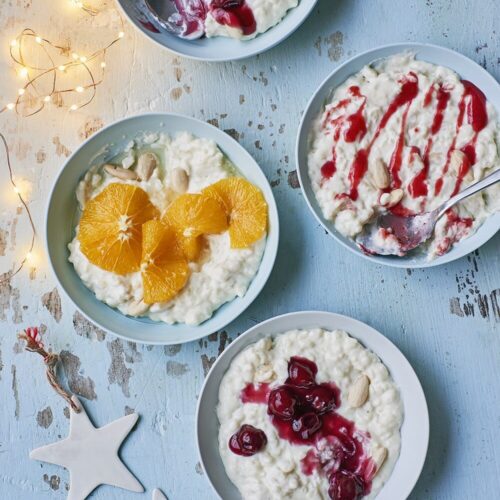 Print Recipe
Risengrød / Risgrynsgrøt
At Christmas, rice pudding (we actually call it 'rice porridge') is a big deal all over Scandinavia. We eat warm, unsweetened rice pudding with cinnamon, sugar and a knob of butter the night before Christmas, usually, and on Christmas Eve we serve the pudding cold with a few delicious additions.Scandinavians always make rice pudding on the hob/stovetop, never in the oven, and we don't sweeten it because the toppings are sweet. This recipe makes enough for rice pudding for 23rd December - as well as dessert on Christmas Eve. If you only want to serve one of the two dishes, reduce the recipe by half.It's said that Scandinavian Christmas elves love rice pudding, so we always leave out a bowl for them as a thank-you for taking care of the house, farm and animals throughout the year. If you forget to do this, they will play tricks on you in the coming year (ever wondered why you can never find the remote control?)
Servings:
4
people + 4 next day for dessert
Ingredients
400

g

pudding rice

2

litres

whole milk

1

vanilla pod/bean

salt

sugar

vanilla extract

butter

to serve

cinnamon sugar

to serve
Instructions
In a heavy-based saucepan, add the rice and 600 ml/21/2 cups water and bring to the boil for a good few minutes, then add all the milk and the vanilla pod/bean. Bring to the boil for around 5 minutes, stirring constantly to avoid the rice sticking to the bottom of the saucepan. Turn the heat down to low, cover and simmer, stirring occasionally, until the rice is cooked through but not overcooked (around 25–35 minutes – do check). It's important to keep a close eye on the pan as it can burn or boil over.

Once cooked, add a little salt to taste (never add the salt until the rice has cooked through). You can add a little sugar if you prefer a sweeter pudding or a few drops of vanilla extract.

The pudding may still be a little liquid when the rice is cooked.

Don't worry as the milk will soak into the rice as it cools if using with the dessert. If you are keeping half of the rice pudding for the dessert and eating the other half immediately, reserve half in the fridge for the dessert and simply boil the rest with no lid for a little while longer until the rice pudding is thicker. Remove the vanilla pod/ bean once cooked and discard.

Serve the hot rice pudding in bowls topped with a knob of butter in the middle and a generous amount of cinnamon sugar sprinkled over (mix one part ground cinnamon with three parts granulated or caster/ superfine sugar).

Tip: If you are trying to reduce the fat in your food, you can use skimmed milk instead. The result is less creamy, but still delicious.