Open Sandwiches
Famous all over Scandinavia but especially in Denmark, open sandwiches has long been a staple of our diet and way of eating.
But what IS an open sandwich and why is it called an open sandwich when it isn't actually a sandwich?
Let's go back a bit…
A piece of bread was, way back in time, used as a plate. It was simple: Add the bread, then something on top and you had a meal. Usually stale bread was used – called Trenchers. Still today, bread with toppings are parts of many food cultures (Tartines in France, some of the pinxchos in Basque, and popular from Czech to the Baltics. In the UK, however, open sandwiches were never as popular, as softer white bread was used in favour of the darker, more wholesome breads – and, well, The Two sliced Sandwich gets its name from the 4th Earl of Sandwich whom, in the 18th Century, is reported to have ordered meat and bread in this way, as it allowed him to keep playing cards and eat his 'sandwich' at the same time without the use of a fork. In 2006, in the US, there was even a court case, concluding that 'a sandwich has to be between two slices of bread'.
Well, why do we Scandinavians call them Open Sandwiches, then? Eh, we don't. We call them Buttered Bread (Smørrebrød). You're the ones who call them sandwiches. Anyway, we digress from the history lesson…
While open sandwiches are common place in Norway and Sweden, it is in Denmark where the whole thing really took off and became a showcase for the food culture. Nowadays, considered one of our national dishes.
During the 1800's, suddenly, people started to decorate the slices of bread – rather than simple use them as a plate and quick fix bit of food. It became the fashion, even, and people would gather to eat grand creations in new Smørrebrød shops and cafes.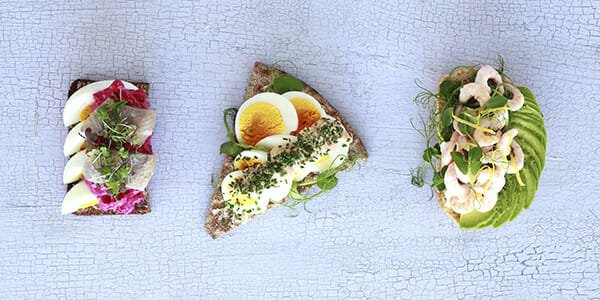 The Danish Smørrebrød falls into 3 categories:
1. Party Smørrebrød – elaborately decorated, lots of different toppings and spices and colours. This is the stuff you get in fancy Smørrebrød places, usually – or at parties. Usually, you eat just one or two, as they are quite large (and expensive – around £7-9 per piece is not unusual). Always eaten w knife and fork. There is a restaurant in Copenhagen famous for offering over 160 different options!
2. Homely Smørrebrød – served for Christmas, Easter and other high seasons. Still pretty, but you may get a few different kinds as they are smaller. Again, a knife and fork job. Never the hand.
3. Lunch Smørrebrød – quick slice of rye bread with pate and maybe some gherkins – or similar really simple toppings. These are eaten with the hand, can be put in a lunch box and made in a jiffy. These are known as Madder ('foods'), Håndmadder ('hand food'), Klapsammen madder (if they have bread on top).
At ScandiKitchen Café, we decided early on that we never wanted to be fancy – we simply wanted to make open sandwiches we wanted to eat. Not too fussy, but still pretty and full of flavour. So, ours are sort of a bit like the Homely Smørrebrød – and our selection is priced simply: Every one is £3, two for £5.50 and add a side salad to that and it's £7. We do deals on more sandwiches, too, for the extra hungry. During weekdays we usually have around 12-13 different kinds, more on weekends when we make speciality traditional ones, too.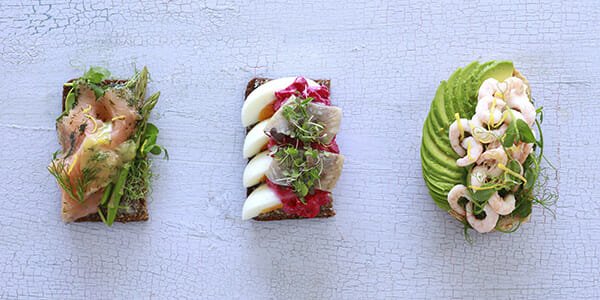 Rules? What rules?
Scandinavians love rules, so don't be surprised: Smørrebrød has rules. Especially the Danish kind. Lots of 'this goes, this does not' so we thought we better tell you the basics:
1. Pickled herring is always first.
Herring is strong in flavour. It also easily soaks the bread in brine, which is not nice. Serve the herring on its own plate, as a starter to the rest of them. A shot of lovely Aquavit is usually enjoyed alongside it.
Some of the more popular choices are:
KarrySild – curried herring (its better than it sounds!) – on buttered dark rye bread with maybe half a boiled egg and some chives.
Marineret sild Onion herring – plain, just with dark rye bread and onion rings
Senapssill Mustard herring – a Swedish choice, usually served with crispbread in Sweden but Danes will always say that herring goes with dark rye bread.
We all agree it never, ever goes with white bread of any kind.
2. Other fish
After the herring, other fish follows. Prawn is an obvious choice. Its easy to make it look pretty, too!
If you serve it with boiled egg, in Denmark, it would go on rye bread. In Sweden, this is usually on white bread and is called Räkmacka (usually a big sandwich, a meal it itself – often eaten on the ferry on the way to Denmark, for some reason!).
A lovely way to make Prawn and Egg on Rye bread is a slice of dark rye bread, buttered – then top with 1 sliced egg, then a bit of mayonnaise and then as many prawns as you fancy. We serve this at the café, topped with lots of cress and lemon zest. It's a best seller. Always use good prawns (we favour prawns in brine).
Smoked salmon – usually served on white bread. The same with gravad lax (cured salmon) – although the latter can also go on dark rye bread.
We like to add a bit of avocado now and then – and use different rye breads, such as the Finn Toast.
3. What about meats?
In Denmark, most places will display a rare roast beef piece of Smørrebrød – and truth be told, it doesn't get much better than that! To make this, all you need is buttered dark rye bread, some lettuce and then arrange about 40g of thinly sliced rare roast beef on top. On this, add a good dollop of Remoulade – a famous Danish dressing, it works so well with beef. Top with pickles, tomato and grated horseradish and maybe some crispy onions. Simply stunning and amazing to eat.
Other toppings include:
Liverpate with pickles, mushrooms and bacon (dark rye)
Meatballs with red cabbage (dark rye)
Swedish Meatballs with Beetroot salad (crusty bread)
Ham & Asparagus Salad (dark rye)
Chicken & Bacon
And many more….
4. Open sandwiches are great for veggies, too. And Vegans.
Most rye bread tends to be dairy free, so it makes a great base for vegan open sandwiches too. Okay, not too many traditional vegan recipes, granted, but only your imagination stops you here.
Great veggie options:
Egg Salad –people often ask us what makes a great egg salad (Egg Mayo) – we say Good eggs, great mayonnaise, red onion, lots of chives and some mustard. Simply add to rye bread – yes, dark rye for egg.
Avocado and Tomato salsa – a simple Vegan option.
Västerbotten Crème
Sliced cheeses with jam or onion pickles
No-nos for Open Sandwiches / Smørrebrød:
• Do not eat with your hands. Unless your open sandwich is really simple, it is likely that you will be expected to eat it using cutlery and a plate. It is not an 'on the go' food.
• There are no Smørrebrød that have ketchup on them (that we know if)
• Don't add a top piece of bread
• Don't mix your proteins unless its traditional (no ham on the meatballs etc).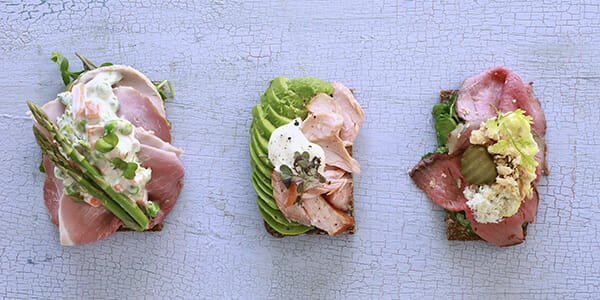 Good for you
Look. we do like to add mayo and other condiments on to the open sandwiches, but by and large, they are not that bad for you seeing as they are mostly made on dark rye bread.
On top of this, you are forced to take a break and sit down to eat and enjoy your open sandwiches – you will not be able to shove an open sandwich into your gob as you are waiting on the tube. Eating slowly and taking a break, well, it is good for you, too.
On top of that, open sandwiches and topless. They have everything on show – there is no hiding behind bad ingredients or any nasties: You can see what is on there. Pretty much a win-win-win in our opinions!
More open sandwich recipes to follow over the next few days.
Love, The Kitchen People x
Ps our lunch of open sandwiches is served 7 days a week from our London cafe. The nearest tube stop is Oxford Circus. We get really busy, but the best time to get there is noon – when you have the biggest selection. Just saying…