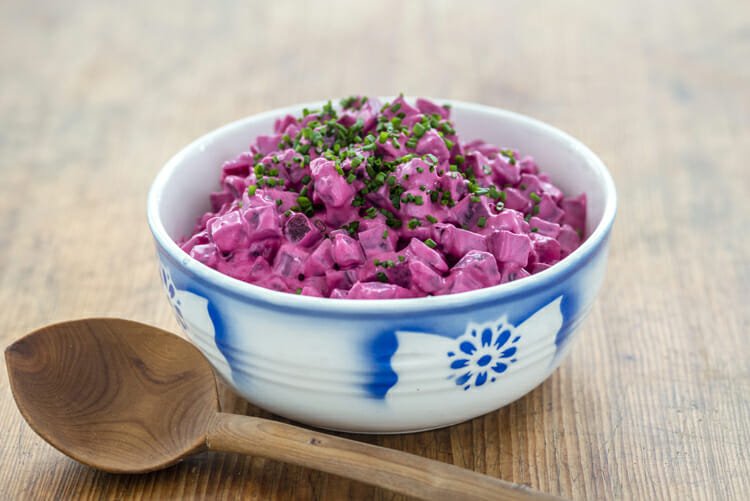 Print Recipe
Rödbetsallad Apple and Beetroot Salad
This dish is a must on most Scandi Christmas Smorgasbord tables. Mostly in Sweden, where it is absolutely essential. No beetroot salad = no Christmas.
It's super easy to make it - have a go at home, but please do try to use a Scandinavian pickled beetroot for the best result. It just works better.
Instructions
Drain the beetroot well and cut into bitesized pieces. Peel and cut apple into similar sized pieces.

Mix the beetroot and apple in a bowl, add mayonnaise and crème fraiche and stir. You are looking for a good creamy consistency and a medium pink colour (if the beetroot is not drained properly, you will get a runny consistency).

Season to taste (add sugar if using a tart variety of pickled beetroot). Add more mayo and crème fraiche, if a creamier salad is desired.

The colour of the salad will go darker once it sets. Leave to set in the fridge for a few hours or even overnight. If it goes too dark, just add a bit more crème fraiche or mayonnaise just before serving. If using chives, add chopped on top before serving.