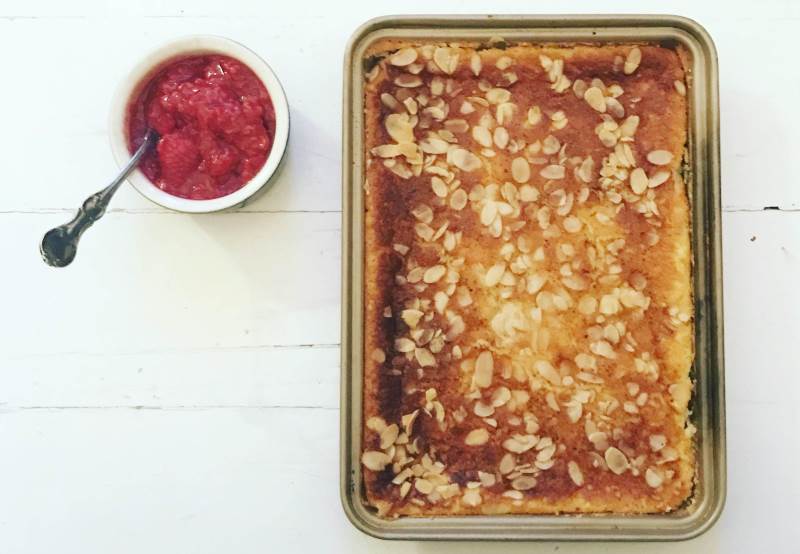 Print Recipe
Swedish Cheesecake (Ostkaka)
If you're looking for one of those sweet Americans style cheesecakes, forget it. This is the much less sweet Swedish version - 'Ostkaka' - which simply means cheesecake. It is a really old Swedish traditional favourite, first mentioned in the 16th century - it's that old. The original version requires you to go buy some rennet and make milk curds from scratch, but cottage cheese works well too, so that's what I use in my version. Indeed, most people use cottage cheese nowadays except purists. I'd say this cheesecake is not dissimilar to the ones you get in Northern Spain, in the Basque Country - and, like the Spanish ones, work well with a glass of sweet sherry on the side. This recipe is naturally gluten free. This cheesecake is served lukewarm, never cold and never hot. Most people enjoy it with a dollop of strawberry or cloudberry jam on top, although I prefer a quickly made compote and some fresh berries. The recipe fits a standard brownie tray, approx 20 x 20 or similar, but you can use any sort of dish or even a spring form. Just don't forget to line the dish.
Ingredients
3

eggs

75

g

caster sugar

400

g

natural cottage cheese

100

ml

double cream

50

g

ground almond

1

tsp

vanilla sugar

or vanilla bean paste

pinch of

salt

1

tsp

almond essence

optional

50

g

flaked almonds

dusting of

ground cardamom
For the topping:
125

g

raspberries

2

tbsp

sugar

dash of

water
Instructions
Turn the oven to 160 degrees celsius fan (170 degrees normal).

Whisk the sugar and egg until light and fluffy. Add all the ingredients apart from the flaked almonds and cardamom and pour into your prepared tin.

Scatter the flaked almonds on top, then dust the tiny bit of ground cardamom (less than 1/2 tsp - it's just for a bit of flavour).

Place in the oven and bake until set and slightly golden on top. This depends on your oven - but around 30-40 mins is a good guideline.

To make the topping: Place 100g raspberries in a saucepan, add the sugar and a dash of water and boil until the raspberries have broken down and it looks like a runny jam. Leave to cool. Use the remaining berries to decorate.