March 30, 2016 | Leave a comment
Norwegian Words to Describe Weather
And a few events and activities we would like to bring your attention to, as their names may lead you to think you are guaranteed a certain temperature or weather type. Consider yourself warned;
Utepils – you may already know this one. Utepils is a thing to do – it means having a beverage, preferably a beer (pils=lager), outside. You would think this implies the conditions are warm and summery, but no. Utepils-weather is anything not raining (opphold) and above freezing. In March, for example, utepils can be had in 4 degrees, sun and icy winds. In August, in 20 degrees and a mild breeze. Blankets optional but advisable in the former. Utepils is something of an obsession, and it must be done as soon as possible when the sun comes out in spring.
And remember; if you have committed to Utepils you cannot change your mind. It is NOT too cold. You don't need to feel your toes or your bum anyway.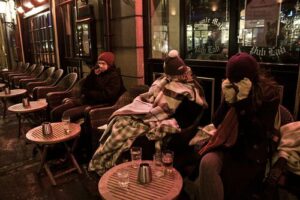 17.Mai – This is the national day of Norway. 17th of May – yep, sounds like it should be a warm late spring/early summer's day, but it usually snows in either Bergen or Oslo, and the inhabitants of each city are extremely smug if it is the other one, this year. Luckily the Norwegian national costume (the bunad) is made of very prickly wool to keep you warm, should it snow.



Last but not least; there is no such thing as bad weather. Only poor clothing.
Finnes ikke dårlig vær, bare dårlig klær!
Fancy some Norwegian food maybe?
Get 10% off your first order – just enter 'scandilife10' at checkout.