ScandiKitchen Fact sheet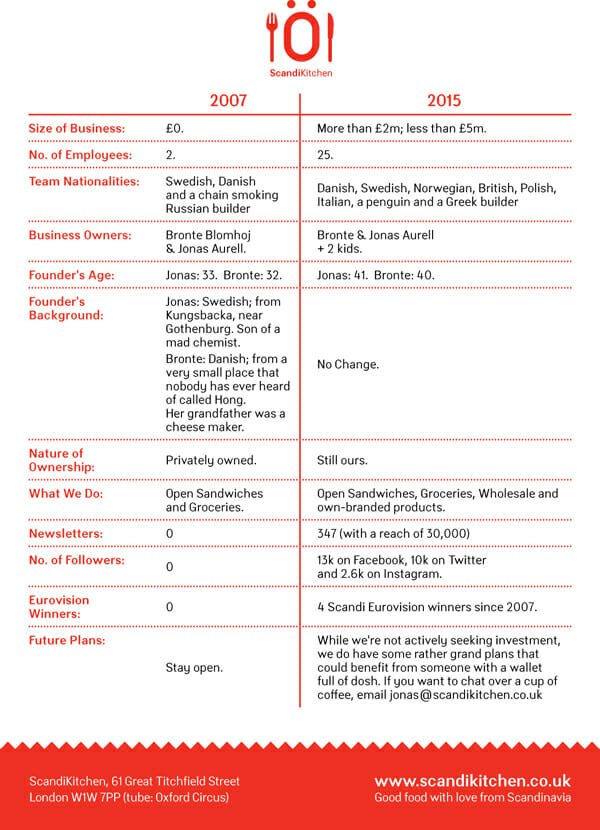 Other Useful Info
Scandinavia: Sweden, Norway, Denmark (and sometimes, depending who you ask, Finland)
Nordic: Sweden, Norway, Denmark, Finland, Iceland, Faroe Islands, Greenland.
Blurb About our Business
ScandiKitchen launched seven years ago: we really just wanted to help introduce Scandinavian food to the UK people. Our café serves an amazing array of open sandwiches, salads and cakes – and our warehouse ('StockHome') supplies the whole of the UK with food orders.
Since we started, we've grown to be a very busy shop and café as well as supplier to larger companies such as Ocado and more. We also do wholesale and have our own range of branded products.
As a business, we strive to provide a genuine experience of Scandinavian food and hospitality. There is a lot of love in all areas of the business. We are passionate about where we come from and what we do – and the foods we eat. Inside the business, we try to operate as sustainably as we possibly can – ranging from only using compostable, biodegradable and recycled packaging both at our warehouse and in our café. We never air freight anything, we sort our recycling, we eat seasonally as much as possible and we really, really do care.
ScandiKitchen in the Media
The Telegraph – Surströmming: tasting the smelliest food in the world
The Guardian – Top 10 Budget Restaurants in Central London  
TimeOut – Review
The Independent – Scandinavian Diet
Awards we have won
Jonas – Best at Football, Kungsbacka Primary School 1981
Bronte – Swimming badge 2000 metres, Gørlev Pool 1984
We're really too busy making nice food that we tend not to focus on big corporate awards, but click here to see a bunch of nice things people have said about us (link to 'stuff people say' page).