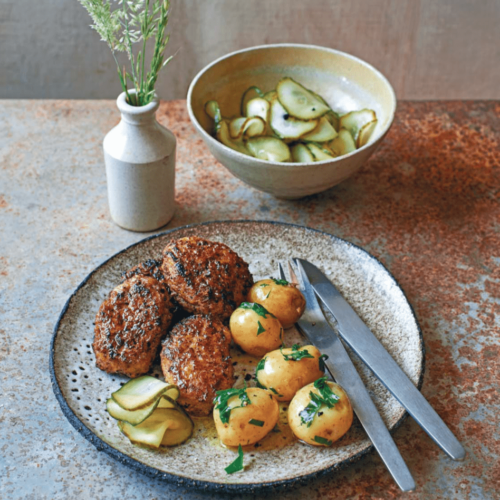 Print Recipe
Lena's Danish Meatballs (Frikadeller)
Lena is our Bronte's mother. She makes the best meatballs in my world, because, as any Dane knows, mother's meatballs are always the best. We hope that, one day, Danish meatballs will make it as big on the food scene as the Swedish meatballs, which people across the world have come to love. They are delicious, and being larger than the Swedish variety and they don't require as long standing in front of the stove to cook. Most Danes will eat their staple dish of meatballs once a week or so. We eat ours warm with boiled potatoes, gravy and pickled cucumbers, or cold with potato salad in the summer. We also eat them on open sandwiches and always when we have a 'koldt bord' (the Danish name for smörgåsbord). Danes often ask why they can't get meatballs to taste JUST like they do at home. There are a few reasons for this: Firstly, meat tastes different depending on where and how it is reared (choose a good, fatty well reared pork for this). Secondly, the amount of butter Mor (Mamma) uses to get Frikadeller to taste like Frikadeller might surprise you. Yes, that much. Fr in oil and it just will not be the same. Fry in half and half – and add more than you think you should – and you'll get there.
300

g/101⁄2 oz. minced/ground veal AND 200 g/7 oz. minced/ground pork (with a good fat content of around 15%)

1

small teaspoon salt

1

onion

grated

1

large egg

3

tablespoons

fresh breadcrumbs

1

tablespoon

plain/all-purpose flour

1

teaspoon

ground allspice

optional – it's not traditional but we like it

A pinch of freshly grated nutmeg

optional

100

ml/generous 1⁄3 cup warm whole milk with 1⁄2 stock cube dissolved in it

freshly ground black pepper

100

ml/ generous 1⁄3 cup sparkling water

75

g/3⁄4 stick butter and a good glug of olive oil

for frying
Put the minced/ground meat and salt in a stand mixer with the paddle attachment. Mix for around 1 minute on medium speed. Alternatively, you can mix for a little longer in a large bowl with a wooden spoon.

Meanwhile, squeeze the excess juice from the grated onion (it does not need to be dry but get rid of most of the liquid). Add the onion to the meat and mix again, then add the egg, breadcrumbs, flour, allspice, nutmeg (if using), milk with dissolved stock/bouillon cube and a good grinding of black pepper. Mix until incorporated. Pop the meatball mixture in the fridge for at least 30 minutes to rest.

Preheat the oven to 120°C (250°F) Gas 1/2.

Take the meat out of the fridge, then add the sparkling water and mix in.

Using a tablespoon, scoop out a quantity of meat mixture the size of a large egg. Use the flat of your hand to help shape the meatballs. Danish meatballs are not round, but slightly oval, sized like an egg.

In a frying pan, heat up the butter and leave it to brown and bubble, then add a glug of oil. The quantity of butter is essential for these meatballs, or they just don't get the right crust and flavour.

Test one small meatball first just to taste you have the right seasoning – and you can adjust later. Sometimes, you need to adjust after the meat has rested.

Fry the meatballs over a medium-high heat, in batches which allow plenty of room for turning, for 2–3 minutes each side. Transfer to the warm oven to finish - and repeat until you have used all the meat.