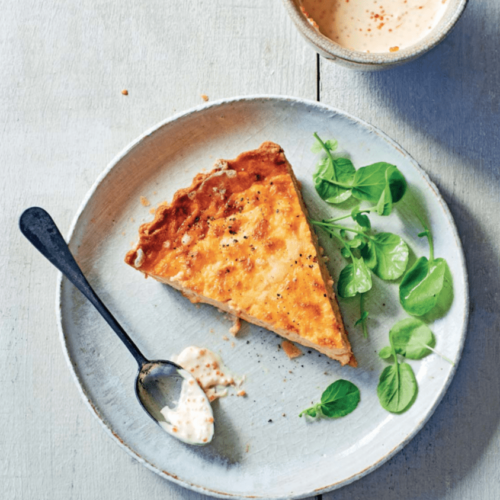 Print Recipe
Västerbotten Cheese Tart (Västerbotten Paj)
This savoury tart can be found on every Swedish family's dinner table several 
times a year. It's essential to get hold of Västerbotten cheese as it really does have
a very unique taste and it is exported to speciality shops across the world. You can substitute with a good aged Cheddar, but for the 'real' taste, do make this if you have Västerbotten cheese. This one is normally served at room temperature rather than hot, and it is marvellous as part of a summer smörgåsbord or served just on its own with a leafy salad. It is also an essential part of an August crayfish party.
Ingredients
The pastry
125

g/11⁄8 sticks butter

cold and cubed

200

g/11⁄2 cups plain/all-purpose flour

pinch

of salt

1

egg

small dash chilled water

if needed
CHEESE FILLING
3

eggs
100 ml/1⁄3 cup whole milk

250

ml/1 cup double/heavy cream

1

⁄2 teaspoon paprika

250

g/9 oz. Västerbotten cheese

finely grated
salt and freshly ground black pepper
Instructions
In a food processor, briefly blitz the pastry ingredients together
to form a dough, only adding a tiny bit of chilled water if needed to bring it together. If you don't have a food processor, you can do this by rubbing the butter into the flour with your fingertips until it is crumbly, then adding the rest of the ingredients and mixing until smooth. Wrap the pastry in clingfilm/plastic wrap and rest in the fridge for 30 minutes before using.

Preheat the oven to 180°C (350°F) Gas 4.

Roll out the chilled pastry until nice and thin and use to line the
tart pan evenly. Prick the base with a fork a few times, then line the pastry with baking parchment and fill with baking beans. Blind bake in the preheated oven for about 12–13 minutes. Remove the beans and baking parchment and bake for a further 5–6 minutes. Remove from the oven but leave the oven on.

For the filling, mix together all the filling ingredients except
the cheese, seasoning well with salt and pepper. Evenly scatter the Västerbotten cheese all over the base of the pastry, then pour over the egg mixture.

Return to the oven for about 15–20 minutes. It'll puff up quite 
a bit towards the end and will turn golden on top. It's done when the middle is set, so do keep an eye on it. Leave to cool before removing from the pan and slicing.

Note: This dish goes very well with romsås, a caviar sauce (pictured). To make this, mix together one small jar of red lumpfish roe with
 3 large tablespoons of crème fraîche and leave to set. Just before you serve the tart, stir the romsås again. Alternatively, if you can get real bleak roe (löjrom – a beautiful but quite pricy caviar delicacy), serve the tart with a spoonful of this caviar and some crème fraîche and chopped red onion.