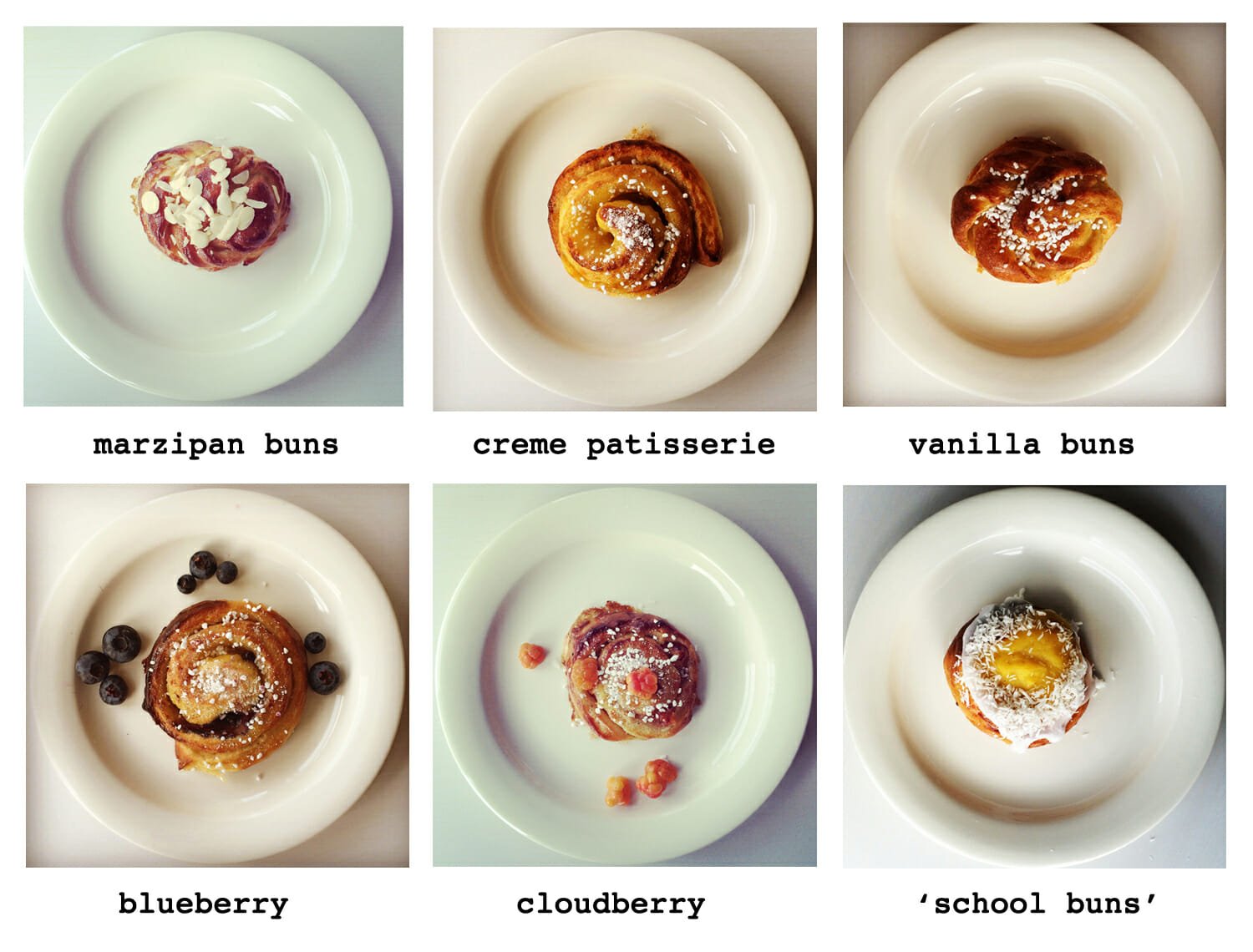 Print Recipe
Vanilla buns, six ways.
Once you are bored with cinnamon buns, where do you go?
Vanilla is where it's at. This week, we decided to make a few different versions using the same base dough and basic filling.
There are as many recipes for buns in Sweden as there are people who bake them. We like this one: it's simple, it's straightforward and it just works. It forms a great base from which to experiment with your own flavours and fillings. The addition of egg to the dough makes the dough richer than usual. We've upped the butter, too – again, you can reduce it but we think it works well with the vanilla.
Ingredients
Dough Ingredients
50

g

fresh yeast

500

ml

whole milk

luke warm

200

g

very soft butter

melted also fine

80

g

caster sugar

1000

g

plain bread flour

or between 800-1000g, depending on the flour  - we always use Swedish Vetemjol flour for perfect results.

½

tsp

salt

2

tsp

ground cardamom

1

egg
Filling for Vanilla buns (filling #1, used also in 2-5)
175

g

butter

soft, spreadable

4-5

tsp

vanilla sugar

1

vanilla pod

seeds from

150

g

normal sugar

1

egg for brushing

100-150

g

of pearl sugar to decorate
Instructions
The dough:
Heat the milk to 36-41 degrees and add in a bowl with the yeast, stir until dissolved. Add the butter, sugar, salt, cardamom, egg and enough flour to make the dough combine. You'll need about 700-800g of flour – but add a little at the time, keeping the mixer on continuously (using the dough hook). Keep the rest of the flour back for kneading. Work the dough until it almost stops sticking and has a shiny surface – about 6-7 minutes with a mixer, longer by hand (add more flour if you need to). The dough should only just reach the point of not being sticky.

While the dough is rising, whisk butter and vanilla together until smooth and spreadable.

Leave dough to rise until it's doubled in size (30-40 mins). Work through with more flour until dough stops sticking and can be shaped, then cut the dough in half and roll out the first piece in a rectangular shape (around 45cm x 35cm). Spread a generous amount of the vanilla butter evenly, then roll the piece lengthways so you end up with a long, tight thin roll. Cut 18 slices of the dough and place each swirl onto your baking tray – a good space apart from each other as they will rise again.

Repeat with second half of dough. Leave to rise for 20 minutes.

To make buns with the rest of the the dough:

Turn the oven to 220 degrees (a bit less if using a fan oven).

Brush all buns gently with remaining egg (you may need a bit more egg) and sprinkle a bit of pearl sugar on each bun. Bake at 220°C for about 8-10 minutes (turn the heat down a bit midway if you feel they're getting too brown) for the buns – but for the longer rolls, turn the heat down slightly and bake nearer the bottom of the oven for around 20 minutes – take care not to burn them. As this dough contains sugar, the buns can go dark brown in a split second, so keep an eye on them.

As soon as the buns come out of the oven, cool down under a damp, clean tea towel to stop them going dry. If you prefer a stickier surface, brush with a light sugar syrup or normal light syrup as soon as they are baked.

The buns freeze well (freeze in plastic bags as soon as they have cooled).
Filling option #2: Vanilla and Crème Patisserie
Either make a batch of crème patisserie or simply make a portion of instant vanilla creme – whisk 400ml whole milk with 1 sachet of power, leave to stand for 15 minutes and its ready to use.

Follow recipe as above – but before rolling the buns tight, spread a thin layer of vanilla cream across the dough, then roll and proceed as recipe.
Filling option #3: Vanilla and Crème Patisserie
With or without the vanilla crème, add fresh or frozen blueberries to the dough before rolling. Simply scatter a handful of blueberries and then roll and slice.
Filling option #4: Tart berries
With out without the vanilla crème, add fresh cloudberries (or frozen) to the dough before rolling. Simply scatter a small amount of berries across, roll and slice.
Filling option #5: Marzipan & Vanilla knots
Roll dough out and in the recipe. Take half a packet of Mandelmasse, marzipan (or similar graded marzipan) and grate about 100g across the dough. (after you have added the vanilla sugar)

Instead of rolling the dough, simply fold it in half lengthways – then cut into 18 strips and make bun 'knots'. You can check out this video for hints of how to make bun knots – it's surprisingly easy and it distributes the filling well.
Filling option #6: 'Skoleboller' – School buns.
Most popular in Norway, these buns are super lovely. For this version, you do not need the vanilla sugar – but you do need the crème patisserie.

Shape the dough into 36 round balls and place on baking trays. Press each ball a bit flat and make an indent in the middle. Add a large teaspoon of vanilla crème patisserie to each bun and leave to rise for about 15 minutes. Bake as directed in recipe.

Once removed from oven, let cool for a bit then pipe out some icing (icing sugar mixed with a teeny bit of warm water) on each bun. Place your desiccated coconut in a soup bowl and dip the bun, icing side down, into the coconut.