Use hashtag #ShowUsYourBuns – our very own online bake-off game.
The 4th October is Cinnamon Bun Day in Sweden – now also celebrated in various other countries.
We're getting everyone baking in time for the big day – and we want to see you buns. Yes, yours.
Over the next week from 27th Sep until 6th October, we'll be posting pictures of some of the best ones across social media. If you want to show off your home baked kanelbullar, tag us (@scandikitchen) on Instagram – or use the hash-tag #showusyourbuns across different channels. You can also email one medium sized photo to iloveherring@scandikitchen.co.uk, if you prefer. We love seeing your homebakes.
Throughout the week we will be picking some of the photos to showcase – and some might even win fancy prizes*
What buns count?
Any Scandi style cardamom based yeast dough bun. Cinnamon buns or various other fillings such as vanilla, hazelnut spread, Tosca, blueberry… Of course, you need to have baked them a home.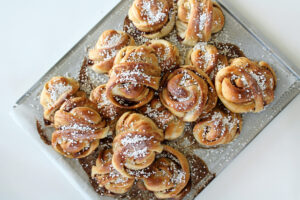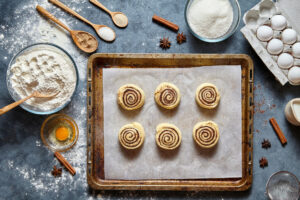 What prizes do you have and how do I get one?
It's very hard to choose between people's home bakes because you can't really measure it. We usually choose 2-3 people who've really shown great bun-twisting skills, innovative bun skill or kids. Prizes range from bags of sweets and chocolate to one of our baking books. Sadly we can only send gifts inside the UK. You can still play if you are outside the UK, but prizes can only be gifted to UK addresses. See terms*
I don't have a recipe
Fear not, there is a good base recipe here fro our own Bronte Aurell.
You can also Google 'Swedish Cinnamon Buns' and you will find more recipes online than you know what to do with.
Why do cinnamon buns have a day of of their own?
The average Swede eats 316 buns a year. That's a lot of buns. It's one of the favourite bakes amongst the Nordics – so why not celebrate it?
Happy Baking
Bye for now, The Kitchen Team x
*terms: Prizes are given randomly and chosen for various reasons, so please bear with us. Maybe your kids decorated your entire kitchen with flour, maybe you just took the best photo of buns that we happen to love. We will post a lot of photos throughout the week but only 3 will be winners of prizes (ranging from bags of sweets and one signed book). Winners will be notified individually via social media. We're sorry but we can only send prizes inside the UK, but everyone may play – but prizes are for UK only. This is a fun-to-do thing we do and we simply just want to see your great bake-off baking skills, so play along for the fun of it.