September 6, 2018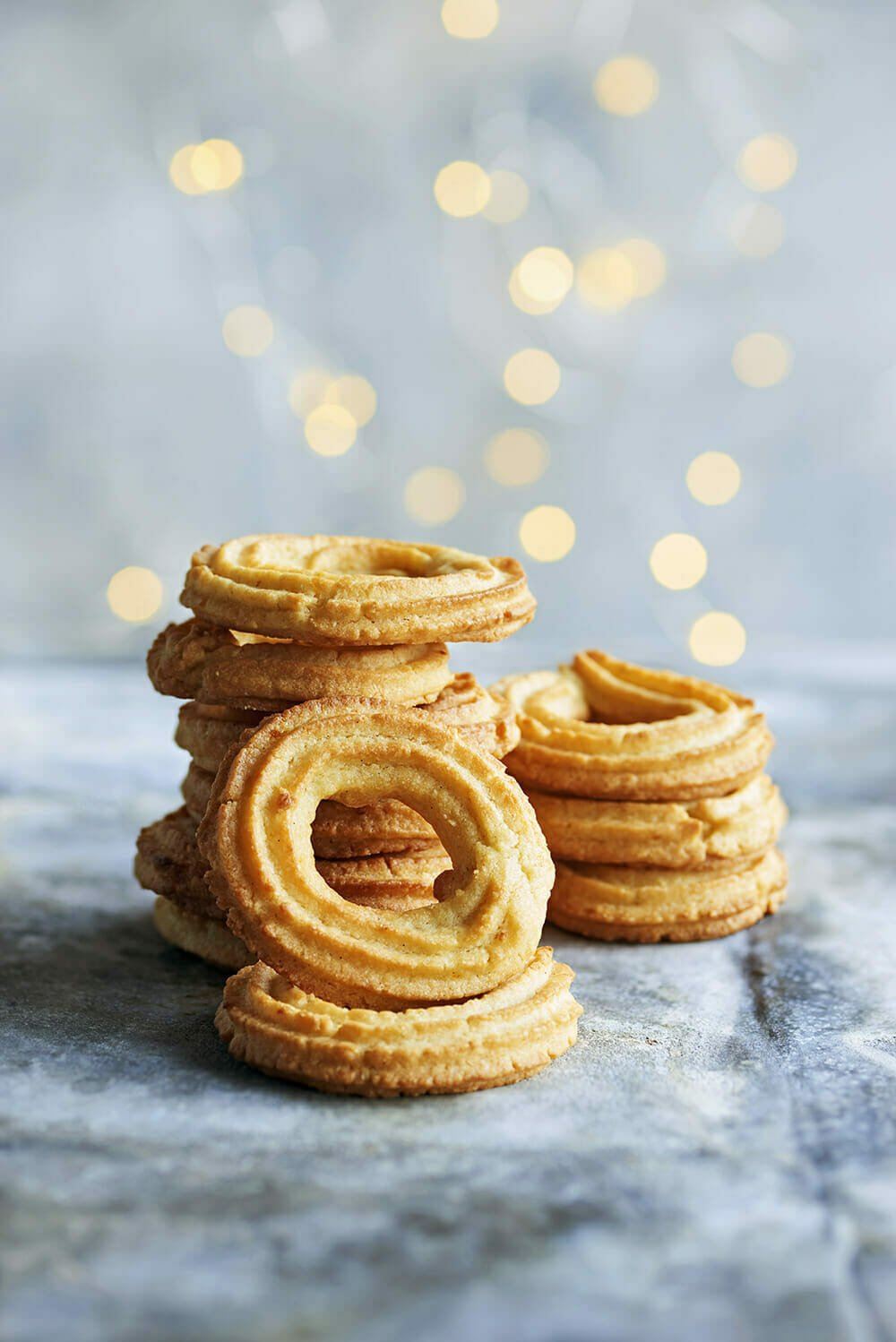 Print Recipe
Vaniljekranse med appelsin
Ahhhh, is it Christmas yet? Well, seeing as our new book is out end of September, we thought we'd post one of the lovely biscuit recipes. It's a take on a traditional Danish Christmas biscuit called Vaniliekranse – the real version of those ones you often find in the tins of Danish Biscuits with pictures of the Little Mermaid on the front. But obviously much, much better. Bronte decided to flavour these a bit with orange – but if you want the traditional version, simply leave it out. These cookies may spread in the oven, and it is quite hard to get them to keep their pattern, so we usually chill them before baking. Buy the new Christmas book here.
Ingredients
170

g

granulated sugar

200

g

butter at room temperature

275

g

strong bread flour

100

g

ground almonds

1

tsp

baking powder

1

egg

a pinch of salt

seeds from 1 whole vanilla pod/bean

1

tsp

freshly grated orange zest

a strong piping/pastry bag and a medium star nozzle/tip
Instructions
Mix the sugar and butter (only briefly until just combined), then add the remaining ingredients and mix until you have an even dough (you can do this in a food processor or by hand). Do not overmix. Your dough needs to be soft enough to push through a piping/pastry bag nozzle. It is a hard dough – in Denmark, most people use a metal case to push the dough through the nozzle. A fabric piping/pastry bag is also good. If you find this difficult but have a good-sized nozzle, you can simply push the dough through the nozzle with your thumb, one at the time.

Line several baking sheets with baking parchment. Pipe out rolls 8–10 cm/31/4 –4 in. long, then carefully connect into circles and place on the lined baking sheets. Make sure the rolls are no thicker than your little finger, because they will spread a bit during baking. Place the baking sheets in the fridge if you have space so they can firm up as much as possible before baking.

Preheat the oven to 200°C (400°F) Gas 6.

Pop a chilled baking sheet of cookies in the preheated oven and bake for 8–10  minutes, or until the slightest tinge of golden brown appears at the edges. Remove from the oven and allow to cool before eating.

Repeat until everything is baked. Store in an airtight container.