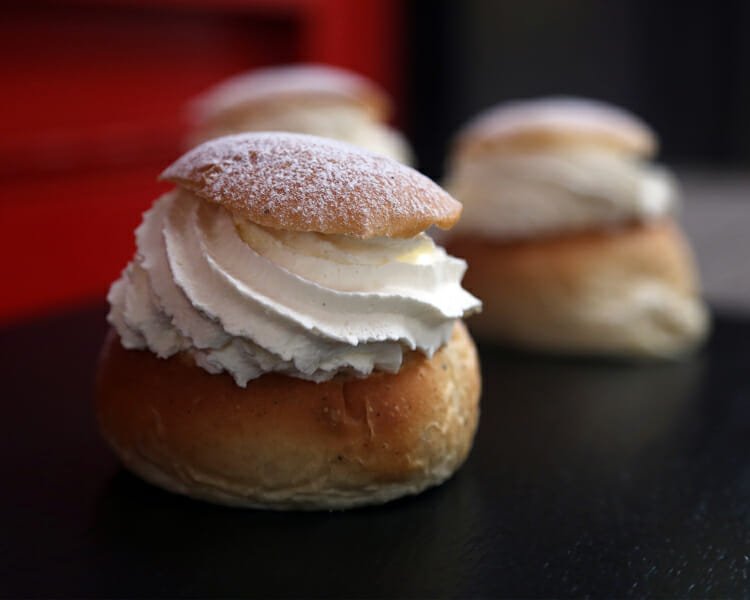 Print Recipe
Recipe: Semlor Lenten buns
Ohhh, those delicious buns of delight and loveliness. It's the season and we have a great recipe.
Lent buns (Semla for singular, Semlor for plural) are buns eaten leading up to and during Lent in Scandinavia. In Sweden the are most popular and bakeries start selling these already in January. Fat Tuesday - Shrove Tuesday or Mardi Gras - is the day when we eat at least one and maybe more of these buns. We basically fatten up before Lent.
You will never ever find Semlor buns sold outside the season - it is just not done. So, take advantage of the season now that runs until Easter and have a go at making these seriously rich buns at home.
Let us tell you that the little dollop of custard or creme patisserie makes all the difference. That's just our little trick and hint for an extra delicious bun.
A delicious bun eaten for Lent.
Ingredients
Filling
100

g

marzipan

a good dollop of

crème pâtisserie

or custard

500

ml

whipping cream

1

tsp

vanilla sugar

or extract

Icing sugar to dust
Instructions
If using mixer, set it up with the dough hook attachment. Melt the butter and add the milk, ensuring a lukewarm temperature of around 37-38ºC. Add the fresh yeast and stir until dissolved.

Add sugar and stir again. Add half of the flour as well as the salt, baking powder and ground cardamom. Add the ½ egg (preserve the other half for brushing before baking).

Mix well until all ingredients are incorporated and then start to add more of the flour, bit by bit, until you have a dough that is only a little bit sticky. Take care not to add too much flour: you will get dry buns. Knead the dough for at least five minutes in the mixer, longer by hand. Leave to rise in a warm (not hot) place until doubled in size (30-40 min).

Turn the dough out to a floured surface. Knead again for a few minutes, adding more flour if needed. Cut the dough into 12 equal sized pieces. Take care that the balls are completely round and uniform in size. Place on baking tray with good spacing between buns. Leave to rise for another 25-30 minutes.

Gently brush each bun with the remainder of the egg wash and bake in a hot oven (200ºC) for about 8-10 minutes or until baked through – keep an eye on them as they can burn quickly. Remove from oven and cover the tray with a lightly damp tea towel immediately – this will prevent the buns from forming a crust.

When the buns have cooled down completely, cut a 'lid' off the buns – about 1½ cm from the top. Scoop out about 1/3 of the inside of the bun and place crumbs in a separate bowl.

Mix the almond paste with the crumb until it forms a very sticky mass –add a dash of milk, custard or crème pâtisserie at this point to help it along. You want a spoonable, even mixture. Spoon the filling back into the buns, equally divided. Whip the cream with the vanilla sugar until stiff and use a piping bag to pipe cream on all the buns' tops. Put the 'lids' back on and dust with icing sugar.