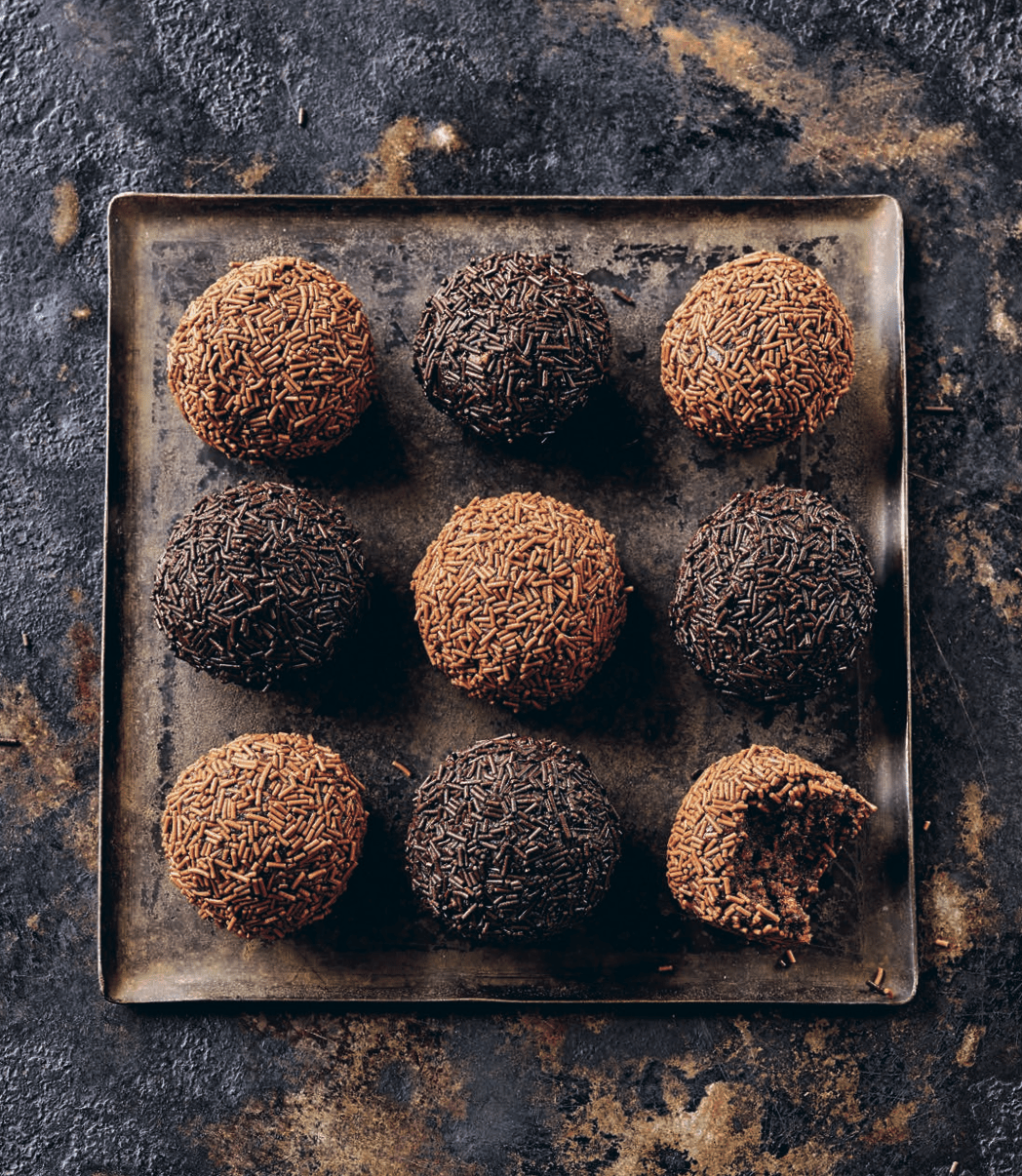 Print Recipe
Romkugler (rum flavour chocolate treats)
A true 'waste not want not' treat. Every Danish bakery has loads of cakes that are, like these Romkugler or rum balls, basically made from leftover pastries. It makes a lot of sense or bakers to and ways to use their leftovers in really delicious ways. It is best to avoid using leftovers containing raisins or strong flavours, as these will come through in the end result. Use a cinnamon swirl or two, some sponge cake and maybe some chocolate cake or a muffin. It's a good idea to freeze leftovers as you have them – and once you have enough, make a batch of 'rum balls' (Romkugler) for afternoon fika.

Ingredients
500

g

leftover Danish pastries and/or cake

– ideally mixture of both

2-3

tbsp

raspberry jam

100

g

icing sugar

add less if your cakes are a really sweet variety

100

g

softened butter

2

tbsp

cocoa powder

1

tsp

vanilla essence

2-3

tsp

rum extract or essence

I use quite a concentrated one – you may need to add a bit more, as you want it to have a good punchy flavour

A handful of

oats

(optional)

Dark or light chocolate vermicelli strands

to decorate if you're making the balls

OR 300g White Marzipan or icing if making the ghosts.
Instructions
Roughly tear any Danish pastries into bite-sized pieces and crumble up any cakes you are using. In a stand mixer using the paddle attachment or in a food processor, blend the shredded and crumbled pastries and cakes with the rest of the ingredients (apart from the oats and the chocolate vermicelli) until evenly mixed.

Taste the mixture – it may need more cocoa powder, rum extract
 or even icing/confectioners' sugar. Because this is made with leftovers, the taste will vary a lot. If you feel it needs more texture you can add
a handful of oats.

Chill the mixture in the refrigerator for about an hour to firm up.

Roll into balls a bit larger than the size of a golf ball and roll in the chocolate vermicelli strands to evenly coat. Chill again in the refrigerator until you are ready to serve.

If making little ghosts, roll out your icing/marzipan with icing sugar, then cut rounds out that will cover the balls. Shape gentle upwards to create taller ghosts – and then add eyes with icing or stick out using a toothpick.

Rum treats will keep well for 2–3 days wrapped in cling film/plastic wrap and stored in the refrigerator.