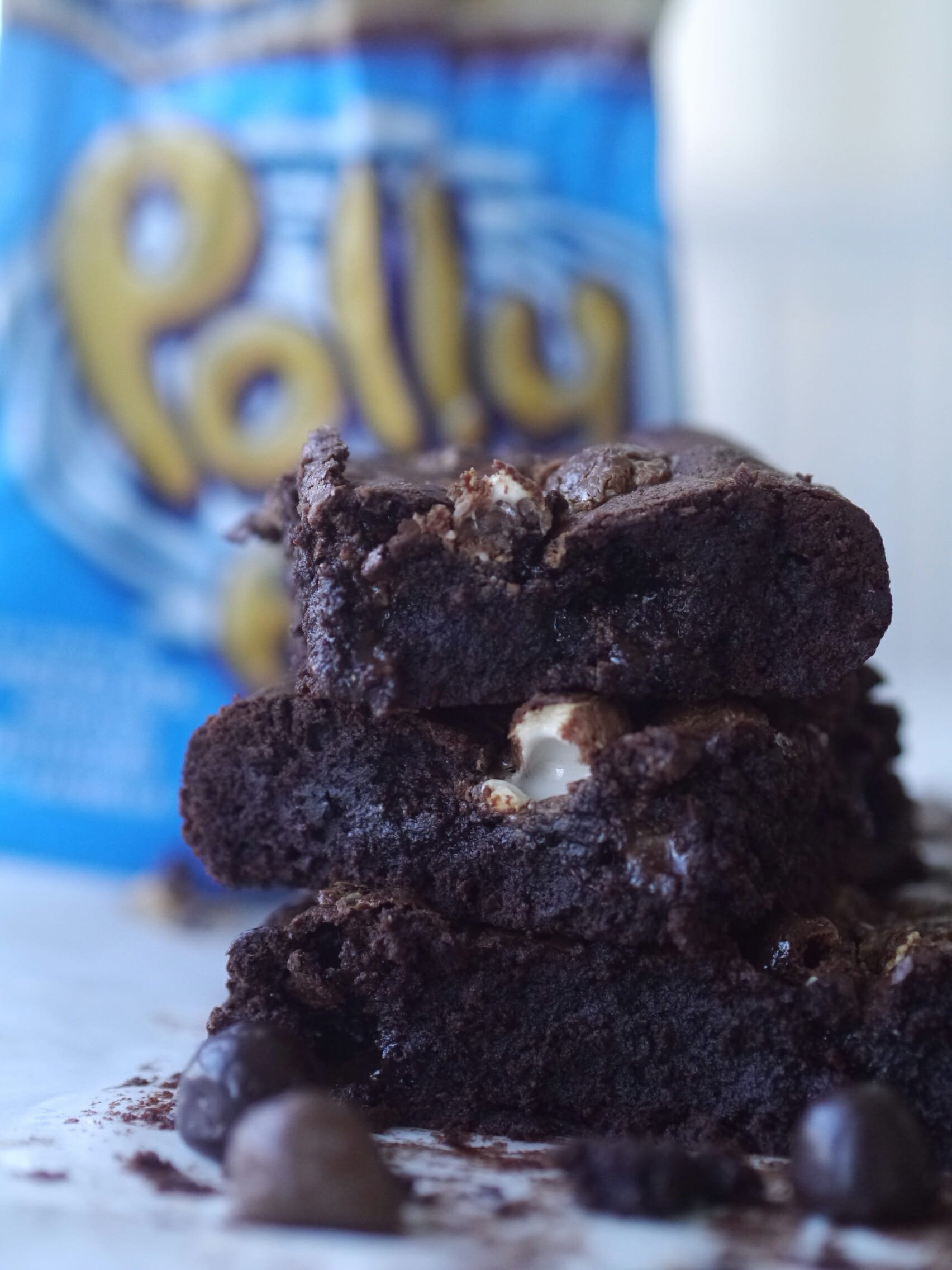 Print Recipe
Polly Gooey Brownie
I love brownies. Who doesn't? Lovely, sticky and decadent – a good brownie rarely fails to satisfy.
Then again, I also love sweets – Polly is a particular weakness of mine. Lush milk chocolate covered marshmallows – chewy and extremely moreish. So, why not pair the two?
This recipe is super easy to make – and if you don't have Polly, you can replace by Dumle / Chocolate chunks / other kinds of marshmallows / Bilar…
Ingredients
200

g

butter

150

g

70% chocolate

3

eggs

200

g

caster sugar

50

g

light brown sugar

70

g

plain flour

½

tsp

salt

50

g

cocoa powder

½

tsp

ground cardamom

1

tsp

vanilla sugar

or extract

125

g

Polly sweets

20 x 30

cm

baking tin

(different sized tins means baking time will simply vary, so adjust accordingly)
Instructions
Turn the oven to 170C (160 fan).

Melt the butter and chocolate and set aside – you can do this either in a water bath or in the microwave.

Mix eggs and sugar (no need to over whisk it much as you don't want the brownie to rise). Ensure the chocolate has cooled down a bit and then mix into the egg mix.

Sift the flour, cocoa, vanilla and salt into the bowl and fold with a spatula until smooth – take care again not to over whisk. Fold in half of the Polly sweets.

Line the baking tray with baking paper and pour the mixture in. Add the rest of the Polly treats on top.

Bake for 25-30 minutes or until a skewer comes out clean at the side – the middle can still be gooey (but it should not wobble when you shake the tin). Remove from oven, leave to cool. Cut into squares then serve.
Notes
Please note the baking time will always vary depending on the tin you use, the thickness of your cake and the oven. Brownies are quite forgiving if you cook them on lower heat for a longer time – keep checking the edges and just make sure you don't over bake it. Its nicer with a slightly under baked brownie rather than over baked, so take it out a bit before rather than give it that extra few minutes.