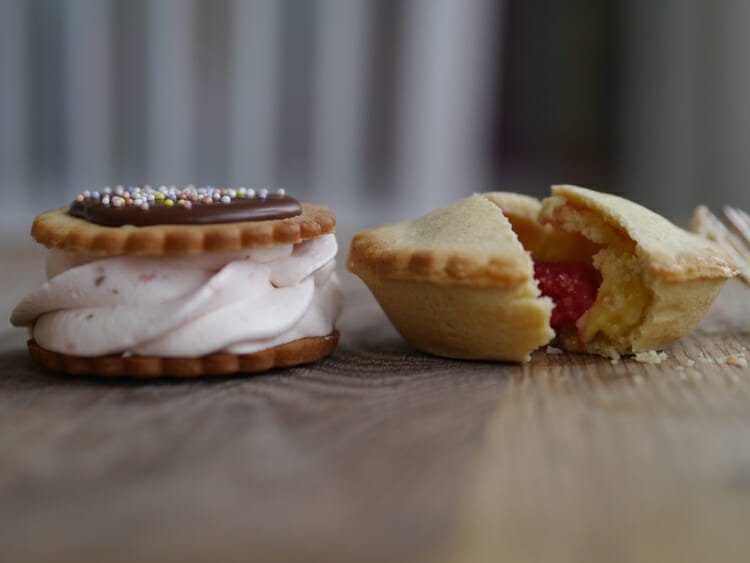 Print Recipe
Danish 'Medaljer' and 'CremeLinser' cakes
Makes approx. 8-9 'Medaljer' and 12 'Linser'
Ingredients
Dough
200

g

cold butter

cubed

350

g

plain flour

125

g

icing sugar

1

egg

1

tsp

vanilla sugar

optional
Filling
Make this ahead of starting:

1

sachet of

kagecreme

500

ml

whole milk.

Whisk for 30-40 seconds then leave to set for 15 minutes.

You can also use homemade cold crème patisserie for this instead

but we cheated a bit – and this powder is really good quality and is bake-safe.
Assembly
300

ml

whipping cream

4-5

tbsp

raspberry jam

or strawberry

6

strawberries

150

g

icing sugar

1

tsp

cocoa powder

edible decorations of choice
Equipment needed:
piping nozzle for cream

Yorkshire pudding tray

Round cutters 6-7 cm and 5 cm.
Instructions
Make the dough:
In a mixer / food processor, add butter and flour and blitz a few times, then add the rest of the ingredients and mix until combined and smooth. Fold together and wrap in clingfilm and leave to rest in the fridge for 30 minutes.

Turn on oven to 180C.

Cut the dough in two pieces.

For the Medaljer, roll out and cut 18 round circles with the 7 cm cutter. Place on a lined baking tray and then bake 5-7 mins in the warm oven until slightly golden (taking care not to over bake).

Meanwhile, roll out the remaining dough for the Cremelinser. Use flour if it is a bit sticky.

Cut circles to line the base of the 12-hole Yorkshire pudding tray – the dough should go to the top line, neatly. Add a good heaped teaspoon of crème patisserie to each 'Linser'. Roll the remaining dough out flat, then cut the smaller 5cm circles. Carefully top each Linser with the pastry circle and press down gently around the edges to close.

Bake in the oven for around 10 minutes or until done taking care not to allow the Liner to crack open and the custard to seep out (but if it does a bit, don't worry, it will sink again when cold).
To assemble the Medaljer:
Make the strawberry whipped cream:

With a blender, blend 6-7 strawberries (or mash them very thoroughly with a fork). Whip the whipping cream with a tbsp. icing sugar, and add 3-4 tbs strawberry puree. Allow stiff peaks to form.

Lay out 9 baked circles on a tray. Add ½ tsp jam to the base of each circle, then a tsp of crème patisserie in the middle. Using a piping bag with a wide cream nozzle, pipe cream in a circle around the base of 9 of the baked circles. Keep cold.

Place the remaining 9 circles on the table. Mix the icing sugar and 1tsp cocoa powder with a few tbsp. hot water until you have a smooth icing – not too runny. If the icing gets too runny, add more icing sugar – you want the consistency so it will not spill over the edges.

Carefully add a dollop of icing to each circle and top with a few decorations. Carefully place the lids onto the 'Medaljer' and cream.
Notes
A perfect selection of real Danish cakes to serve with your afternoon coffee.