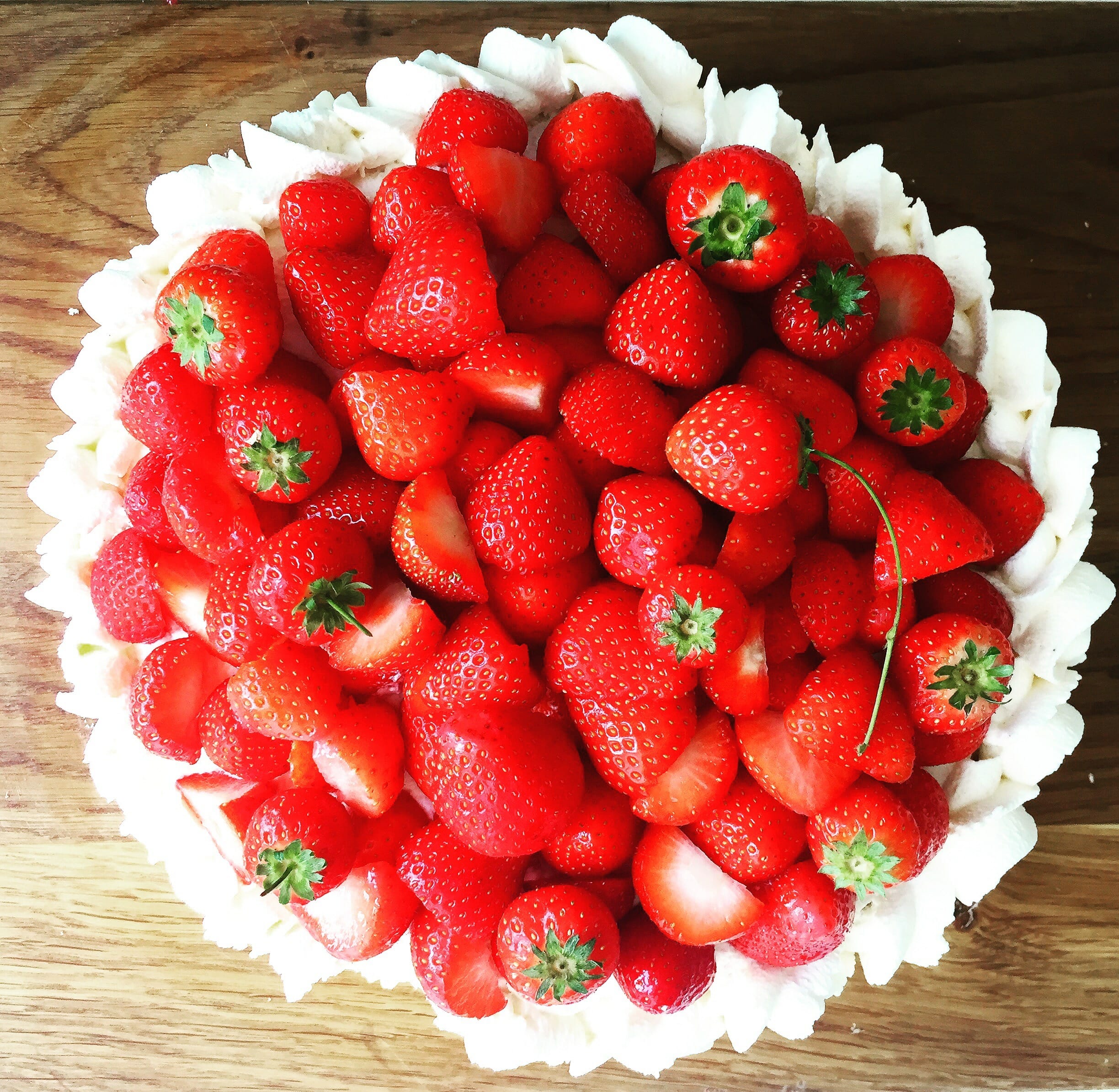 Print Recipe
Quick Strawberry Midsummer Cake / Snabb Jordgubbstårta
Ever need to make an impressive cake in a jiffy? This one is so super easy - we tested it with two kids (Astrid 7 and Elsa 5) and Mamma helping with the piping of the cream. We all enjoyed this super easy 'ready to assemble' 'Jordgubbstårta' - a traditional Swedish strawberry layer cake enjoyed all throughout the strawberry season. Absolutely delicious.
Okay, this is a cheat's version. If you fancy making it from scratch, you'll find the recipe on our blog for this, too.
Ingredients
1

pack of

lagekagebunde

1

pack of

kagecreme

a really good instant creme patisserie. Yes, really, it is very good - unlike most other brands available. Stir one sachet into a bowl with 400ml cold whole milk, whisk, leave to stand for a few minutes and its ready.

1

jar of

raspberry jam

600

ml

whipping cream

800

g

strawberries

1

tsp

vanilla sugar
Instructions
Firstly, make the creme patisserie and set aside to firm up. Then whip all the cream stiff - adding a tsp of vanilla sugar to the mixture as you whip it.




Wash all the strawberries. I hull them as a go along, but you can do it in advance if you prefer.

On your serving plate, place one of the cake layers. Spoon out a few tablespoons of jam, toward the edges.

Mix the creme patisserie with 2 large heaped tablespoons of the whipped cream and mix well - this will give it a creamier texture. Add half of the creme patisserie on top of the jam and spread out evenly. Add one more cake layer on top.

Add a bit more jam and the rest of the creme patisserie. Cut up enough strawberries into smaller pieces to cover the creme patisserie evenly, then add the last cake layer.

Add a few tablespoons of the whipped cream to the top of the cake and spread evenly to cover the top. Add a piping nozzle to a piping bag and add the rest of the whipped cream. Cut off the end to allow the cream to come out, then carefully pipe out cream around the edge of the cake, from bottom to the top, until you have covered all the sides.