At Christmas time we get really, really busy. Our Bronte especially, as she often ends up in the café, writing down festive recipes for homesick people on pieces of till roll. It is that time of year when people want to know just how Mamma used to make the rice pudding and how Granddad used to cook the Christmas ham.
So, Bronte decided that her 6th book should be a book about Christmas. It also happens to be her favourite time of the year. A book takes quite some time to write, which sneakily meant that Bronte's Christmas last year started in November and ended in mid February. By this time, her kids were going bananas due to all the festive music and tinsel still present in her little kitchen in Queens Park: "I needed the inspiration" she reasoned. Really, she just loves Christmas and relished being able to drag it out.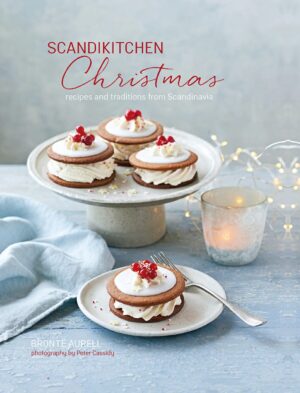 What's in the book? It is split into different sections:
The Christmas Pantry
Advent Gatherings (æbleskiver, canapés, glögg, lussebullar etc)
Biscuits and edible gifts (chocolate balls, klejner, serinakaker, ginger biscuits and more)
Christmas Eve (Norwegian and Danish pork, ham, Turkey, cabbages, duck)
Smörgåsbord (salmon, ham, herring, 3 meatballs, Janssons, salads)
Christmas bread (vörtbröd, flatbread, limpa, skorper, Kringle, Julekake)
Desserts (rice puddings, pavlova, logs, cloudberry cream, kransekake)
It is always hard to make decisions on what to include, so Bronte decided to take the lead of all the wonderful people who follow us on social media and asked what recipes they most often have to go look for – as well as how often she gets asked for specific recipes in the café.
Here's a sneak peak of the introduction (click on the image to get a readable version):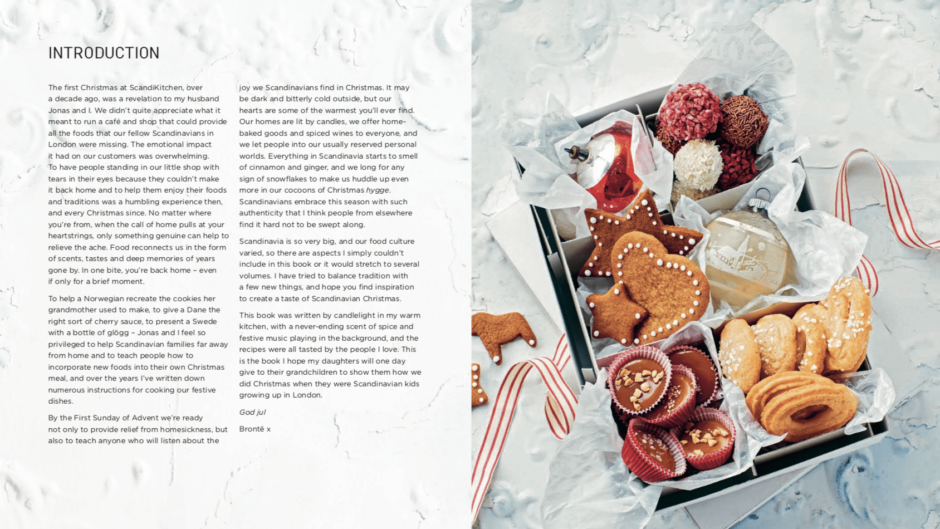 The book is released 9th October 2018. You can get it on Amazon UK, Amazon US and CA… It is also out in German.
Most importantly, you can get it online at our place (we will have signed copies) – and you can also pop by the café and buy it there – and if Bronte is around she is always very happy to sign it for whoever you plan to give it to.
We do hope you like the book – it was most certainly written with love.
The Kitchen People x
Ps when you have the book, and if you like it, please do pop a review on Amazon (for this and any other of her books). It makes a massive difference to the authors.  Thank you.