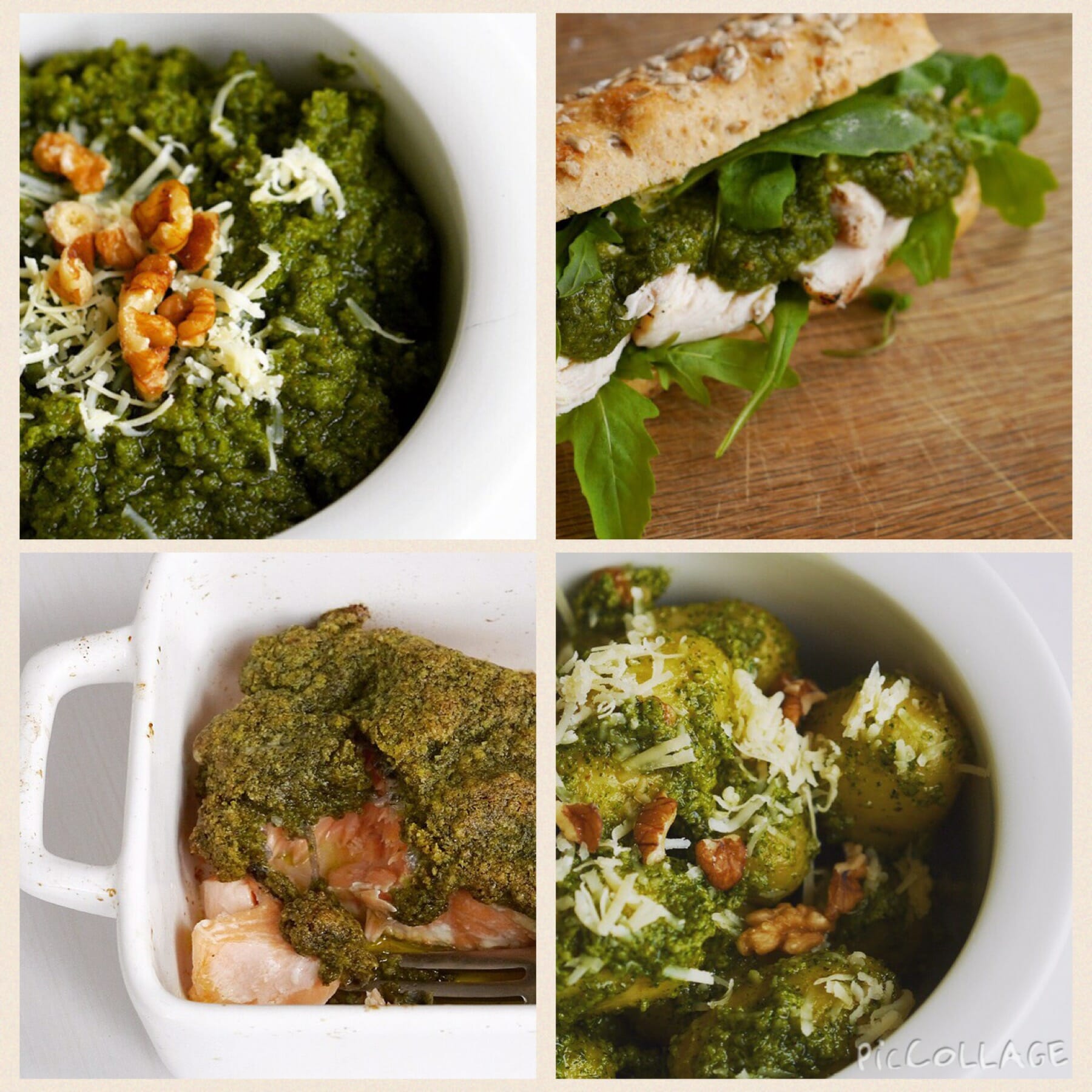 Print Recipe
Västerbotten & Dill Pesto
The other day Bronte made this wonderful Västerbotten & Dill Pesto at home. Because, to be fair, sometimes, normal pesto get a bit boring.
You may think that dill is too strong for a pesto like this - but it's not. It's just perfect. Because it's not for pasta, but for other stuff. Do try it out at home - it is super easy to make and one portion is enough for all three dishes.
Ingredients
60

g

walnuts

1

bunch of

fresh dill

1

tbsp

flat leaf parsley, roughly chopped

½

clove of

garlic

50

g

Västerbotten cheese

50-100

ml

extra virgin olive oil

salt

pepper
For the salad
500

g

new potatoes, cooked with skin left on

Cooled slightly.
For the Easy mid week baked salmon
For the chicken sandwich
1

crusty baguette style roll, ideally seeded

leftover chicken pieces

some

green leaves
Instructions
In a food processor, pulse the dill, parsley, garlic and walnuts. Add ¾ of the cheese and 50ml of the oil and pulse again until you have a finely chopped paste.

Remove from the food processor and add the rest of the cheese (if needed), more oil until you have a pesto consistency (not too runny, but enough oil so that it can be used as a dressing or topping). Taste and season with salt and pepper.
To use it for a salad:
In a bowl, add the potatoes and a few tablespoons of pesto. Mix until potatoes are coated. You may need to add more pesto – to taste. serve as part of your Summer Garden BBQ Smörgåsbord.
To use it for the Easy mid week baked salmon
Place the salmon fillets skin side up in a bake safe tray. Add 1-2 tbsp pesto on top on each fillet and place in a warm oven. Bake for 10-12 minutes or until cooked through (cooking time will vary depending on the size of your fish pieces). During baking, the pesto will change colour a bit and the cheese will form a slight crust.

Serve with salad or new potatoes.
To use it for best chicken sandwich
utter your bread and add salad and chicken. Top with a few teaspoons of the dill pesto and add a bit of extra seasoning.