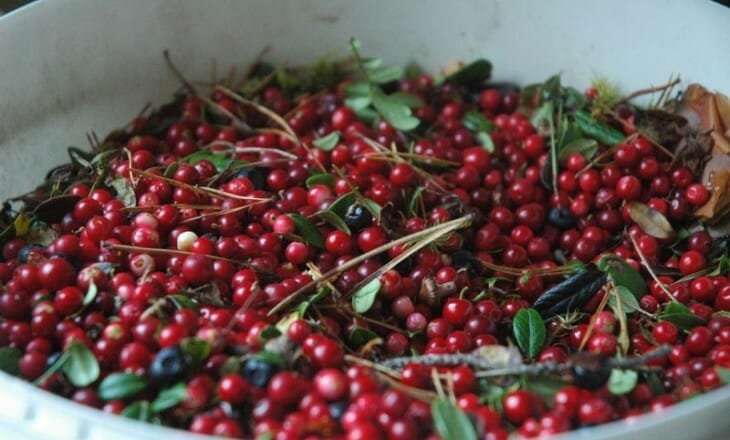 Print Recipe
Five easy ways to use Lingonberries at home
With all the chat in the media about the amazing Nordic Lingonberry and how it fights off the fat, we thought we'd give you a few ideas on how to incorporate more Lingonberries into your day to day.
Lingonberries come in several forms. Firstly, fresh – this is very hard to get hold of outside the Nordics. Secondly, you can get it frozen (right here) and thirdly, in a jam style jelly (the most common form). We also love Lingonberry cordial and juices.
In Scandinavia, Lingonberry Jam is used a bit like cranberry sauce is in the UK: with savoury dishes. We love a good dollop of lingonberry jam with our meatballs, for example, or game dishes. Some people do use it as a jam on toast as well, but it is mostly used as a savoury sidekick.
Instructions
Five nifty ways to add lingonberry to your daily foodie routines:
1) Lingonberry porridge.
Make a simple porridge of oats, water and milk. When it starts to thicken, add a good handful of frozen lingonberries. Keep stirring until they are incorporated and heated through. We serve this lovely 'pink porridge' at ScandiKitchen all the time. It has a slighty tart taste to it. Add sugar if desired. We also love it served with mixed seeds on top.
2) Add frozen lingonberries to your morning smoothie or juice.
Because it is not a sweet berry, best pair with sweeter fruits. We think it works quite well in a banana based smoothie – add a pinch of cinnamon too and a squeeze of orange.
3) Easy red cabbage salad.
Sliced raw red cabbage, diced pears, a dollop of lingonberry jam and creme fraiche to lightly coat. Season with salt. Add berries for extra tartness.
4) Use Lingonberry jam (along with extra berries) on top of a sweet cheese cake.
5) Make a soft gingerbread cake ('Mjuk Pepparkaka') and add a cup of lingonberries to the mixture.
Alternatively, make a vanilla buttercream icing and add a handful of lingonberries before spreading on a cake.