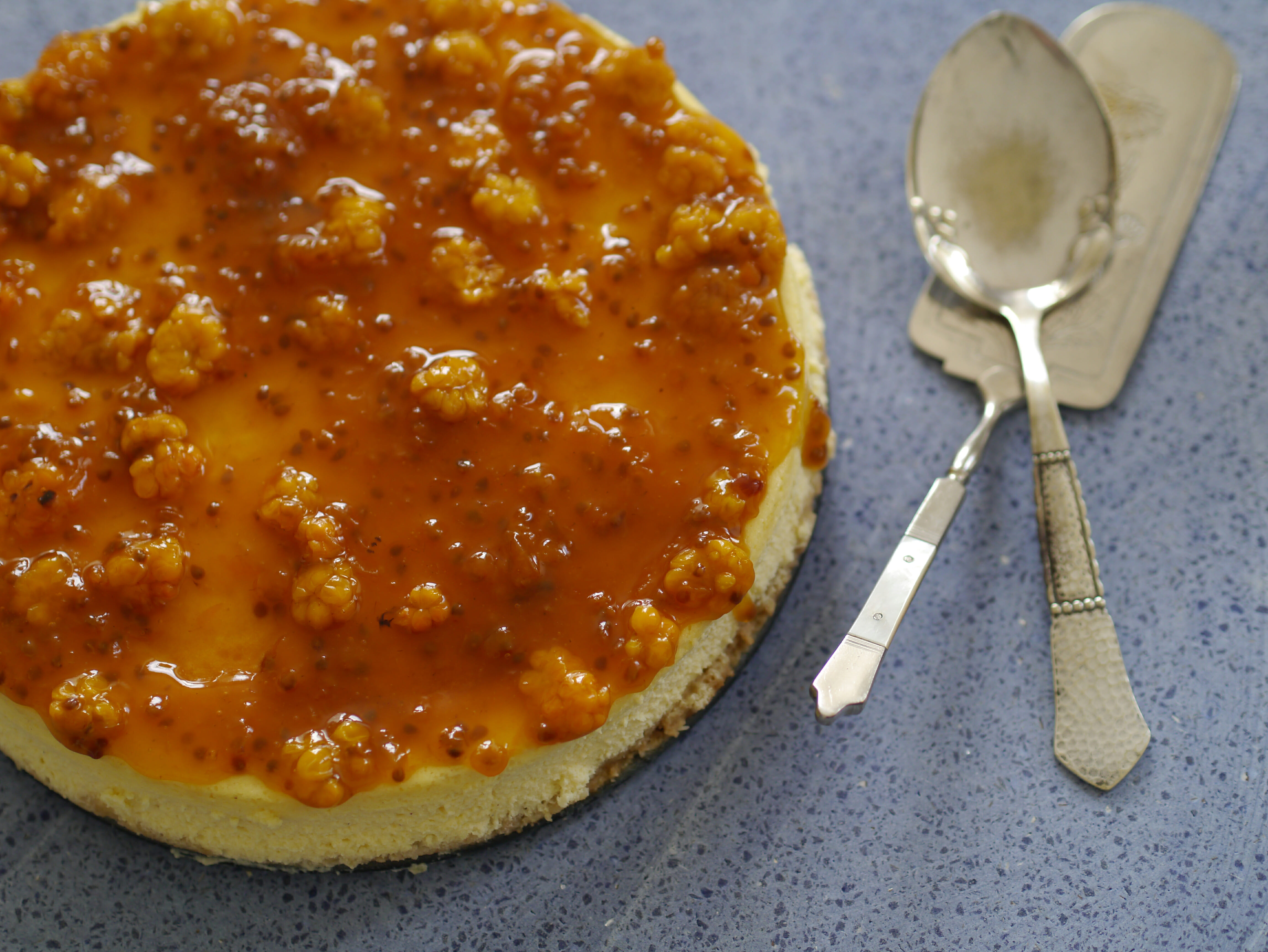 Print Recipe
Cloudberry Baked Cheesecake
We love cloudberries. Those delicious little wild Arctic berries. They look like over-plump orange raspberries - but the taste is unlike any other berry on the planet. Very tart and full of vitamin C.
Cloudberries grow in the wild and are notoriously hard to cultivate. The season is less than three weeks - and as the berries grow on long stalks, they are also hard to pick. No wonder that frozen cloudberries can fetch up to £40 a kilo - more, if fresh. Most berries burst at picking, so loads are made into jam.
Cloudberry jam is expensive - but we don't use it on toast, we use it with desserts or cheese - and we don't use a lot, as it is very rich. Always look for cloudberry with a high berry content (some places sell substandard sugar-filled jam at a cheaper price, but its worth going for a good brand, such as Onos and Felix - even better, pick up some homemade jams if you are ever in the Northern parts of Scandinavia (local village shops often sell these).
We know this forager called Karl-Gunnar. In the winter he hunts Elks (moose) on his land - and in the summer he forages cloudberries in his massive forest. The early autumn is reserved for mushrooms. There is no point in you asking Karl-Gunnar where his cloudberry patches are because he'll never tell you. Real foragers never tell. Anyway, Karl-Gunnar picked a huge bag of berries for me last year and brought over - and I froze them. I've been enjoying cloudberries through the winter and summer and now I'm running out. Good job it is the start of the season again.
A few days ago, I made a baked cheesecake - NY style. I do love a good baked cheesecake. Sometimes, I add the sour cream in the mixture, sometimes, on top - for this one, I decided to combine it and make the filling extra rich. There is something extremely satisfying about a baked cheesecake - it is creamy, dense and smooth all at the same time.
I sued half and half 'Nice' biscuits and 'Pepperkakor' - but any good biscuit will do for the base. I suggest hobnobs if you can get them or a combination of Nice biscuits and something plainer, like Digestives.
For this, you need a 22cm springform, quite a bit of tin foil and a larger oven tray that the 22cm springform can fit into.
Ingredients
200

g

biscuits

I used half and half 'Nice' biscuits and 'Ginger thins' but you can use whatever combo you like of a good plain biscuit

100

g

melted butter

650

g

Philadelphia full fat cream cheese

140

g

caster sugar

150

ml

sour cream

2

tsp

vanilla sugar

or extract

1

tsp

lemon zest

2

tbsp

lemon juice

3

eggs + 3 egg yolks

½

jar of

cloudberry jam
Instructions
Turn the oven to 150C (140, if fan oven)

Prepare the spring form - wrap the sides in tin foil to avoid water seap in when baking place in a water bath (ideally, use a 'no leak' spring form - Lakeland has these, they are brilliant). Place the tin in the larger roasting tin.

Crush the biscuits (either with a rolling pin or in a food processor) and mix with the melted butter. Add the mixture to the base of the tin - and press down evenly all around to form a uniform level layer at the base of the spring form.

In a mixer, add the cream cheese and whisk for 30 seconds to break up any lumps. Add all ingredients except the eggs and whisk to combine fully. Add the eggs and whisk again (don't over whisk or the result may be too stodgy).

Pour the mixture into the round tin. Pour approximately 2cm water into the larger tin - this will form a bain-marie and will help the cheesecake cook evenly.

Place in the middle of the oven and bake for 55 min to one hour depending on your oven - check it, it should wobble ever so slightly in the middle (but only a little). It may need another 5 minutes.

Turn off the oven and open the door. Leave the cake in there for an hour, then remove and place in the fridge for at least 4 hours.

To serve: Using a knife or metal spatula, carefully trace around the edge to release the sides of the cake, the open the spring form. It may be easiest to serve on the actual tray, especially if some water has come in contact with the base.

In a saucepan, heat the jam and a small splash of water. when warm (not hot), pour over the cake and spread carefully to cover. If you are lucky enough to have a few real cloudberries, add these to decorate.