June 28, 2018 | Leave a comment
It's often described as Sweden's guilty secret: in all the Nordic Diet, healthy eating and green good-for-you flurry, we also have The Sandwich Cake.
We're unsure of the exact origins, but suspect it may have come over from the States in the early sixties when housewives made similar 'cakes' for their cocktail parties. Someone must have brought it back to Scandinavia, and voila, it took hold and never went away. In all our obsession with rye bread and crisp bread, using soft white sandwich bread was – and is – seen as a huge treat. So, the Smörgåstårta became synonymous with birthdays and big celebrations and times to indulge.
If you google Smörgåstårta, you will see a variation of monstrosities – 80's creations that would make any Sundsval housewife from 1984 weep with pride. Still today, this is what they look like – some with seafood, some with ham, cheese, pate, tuna and anything else you can think of. Smothered in mayonnaise and then decorated with twirly bits of cucumber and the odd radish rose.
Our Roxanne, who looks after our Logistics, used to make these for a living when she was a student back in Sweden. She tells us tales of a particular kind from her home town of Trelleborg – that has egg mayo, prawns, ham – covered in mayo and topped with roast beef. In one cake.
See, we told you: It's quite something.
In recent years, many have tried to make the Sandwich Cake look a bit more current – including yours truly – but it is hard: You don't want to play too much with tradition, but also, you don't want to start bringing back hair scrunchies, Miami Vice and Melanie Griffith. It's a fine balance.
Since I showed off one of our sandwich Cakes on Channel 4's Sunday Brunch the other day, we have had a lost of request for the recipe. So, here goes: There is no recipe. You make it up as you go along. But, to please you all, here is the recipe for the one we showed on the TV show. Just remember: You can make it any way you like – any shape, any size – just adapt the recipe to fit your party.
A few things to note and adhere to:
– White bread works well. You can also use wholemeal, but hey, why go wholemeal with a mayo cake? Rye bread does not work well.
– Butter the bread still, it will create a barrier and avoid it all going too soggy
– make the base the day before, then decorate on the day.
– Keep the layers tasty – although some people put both ham and prawns in one, it doesn't taste nice. Keep it classic – I love seafood salad with salmon, for example, and egg.
– Make it on the tray you plan to serve it on – don't try to move it once done.
– Plan to serve other things along side it – or else it gets too heavy. It's a nice addition to a buffet with some salads and other bits.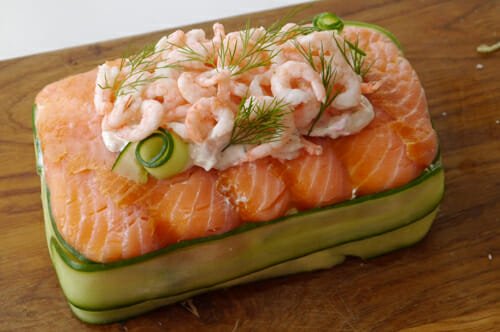 Print Recipe
Swedish Smorgastarta Sandwich Cake
Smörgåstårta is the Swedish food equivalent of Liberace.Look, we know what you're thinking: A Sandwich cake, really? Yes, really. It's a big thing in Sweden. And the more mayo, the better.It's completely against all this 'Scandinavia is super healthy' movement, but it is also about admitting that once in a while, we - like most people - overdo things. It's not all about super healthy stuff all the time. But actually.. we think it is the balance that makes it both sustainable, fun and healthy!Smörgåstårta is eaten at celebrations, such as Midsummer, birthdays, Christenings and more. The basic idea is to make a huge sandwich, cover it with more filling and decorate it, then cut it like a cake and eat it by the slice. In truth, someone forgot to tell the Swedes not to mix and match stuff that really does not go together, so at times, you will find Mrs. Jonsson has made a sandwich cake with a layer of pork liver pate, salmon, prawns, roast beef and topped with ham and cheese. It's all a bit too much.No, we don't care if it has become tradition; it doesn't make it right!So, at the café, while we don't often make Smörgåstårta, when we do, we stick to combinations such as delicious seafood and fish. We always make Smörgåstårta for Midsummer and people queue up, waiting for their slice to have with their open sandwiches and salads. It's one of our favourite times of the year, helping the people of London have their first taste of Smörgåstårta!If you Google Smörgåstårta, you will find that – as if straight out of a 1960s cookbook, Smörgåstårta are decorated as if it is the food equivalent of Liberace. More is more, and the more shaped rose radishes you can fit on there and swirls of cucumber, the better. It is all allowed when making Smörgåstårta, so feel free to get your creative spark on.If you want to make a less Liberace version at home for your Midsummer Smorgasbord, here's a quick serves-four recipe to follow. If you feel it does need some extra OOOMMPH on there, feel free to go mad.Enjoy! And Happy Midsummer.
Ingredients
6

slices of

white English bread

crust cut off

200

ml

prawn salad

(use your favourite or mix together peeled prawns, dill, chopped chives, lemon, mayo, creme fraiche, salt, pepper - to taste)

a tub of

good quality prawns

200

g

smoked salmon

1

cucumber

fresh dill

fresh chives

a tub of

mayonnaise

3

hard-boiled eggs

butter
Instructions
Butter the bread on one side. Please two sides side by side and top with as much Skagenröra mixture as you feel is needed (you may not need it all). Add two slices of bread on top.

Mash the eggs and mix with a little bit of mayonnaise and season with salt and pepper. Add to the top of the bread. Add the last two slices of bread.

Using a pallet knife, add a thin layer of mayonnaise all around the sandwich cake. This will help the other toppings stick.
To decorate:
We like using nice slices of salmon on the top of the sandwich cake. Try to arrange in a nice pattern and let it overhang slightly on the sides to avoid blunt corners.

Using a cheese slicer or mandolin, cut long pieces of cucumber and use to decorate the sides. If you need a bit more mayonnaise to make it stick, well, so be it.

Once the sides are looking neat, you can decorate the top. This is the bit where you're likely to overdo it. We tend to simply add some Skagenrora on top and then add loads of prawns and simply decorate with sprigs of dill.

When done, refrigerate before eating.

Glad Midsommar!