March 28, 2018 | Leave a comment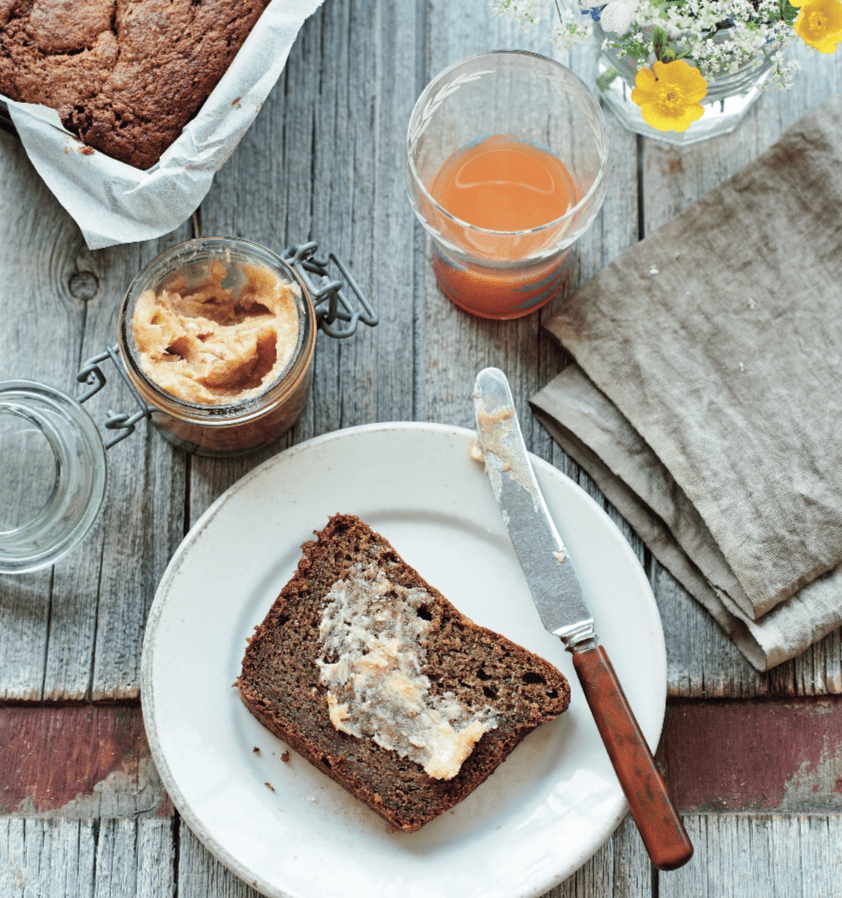 Print Recipe
Rye Banana Bread & Cinnamon Butter
At our cafe, people used to ask for banana bread a lot. As it's not a really traditional Scandinavian thing, we wanted to make it our own with a 'Scandi' twist. So, we created this version with added rye flour to make it more wholesome. We like to serve it with a delicious cinnamon butter that just melts on slices of this loaf when toasted.
Ingredients
125

g

butter

150

g

dark brown soft sugar

4

very ripe bananas

100

g

Greek yoghurt

1

tbsp

lemon juice

1

tsp

vanilla sugar

or extract

125

g

plain/all-purpose flour

125

g

whole rye flour

½

tsp

salt

1

tsp

bicarbonate of soda/baking soda

2

UK large eggs

(US extra-large eggs)

cinnamon butter

to serve (optional)
Equipment
500

g

loaf pan

lined with baking parchment
Instructions
Preheat the oven to 180°C (350°F) Gas 4.

In a stand mixer with the paddle attachment, cream together the butter and dark brown soft sugar.

Meanwhile, mash the bananas and mix with the yoghurt, lemon juice and vanilla and set aside.
Mix the flours with the salt and bicarbonate of soda/baking soda and set aside.

When the butter and sugar are creamy and well combined, add the eggs one at the time, scraping down the sides of the bowl between each addition to ensure they are fully incorporated.

Add the mashed banana mixture and mix until incorporated, then add the flours and mix briefly until smooth. Do not over mix.

Bake in the middle of the preheated oven for around
30 minutes. – Check with a skewer – it is done when the middle just comes out clean. Leave to cool. Serve toasted with cinnamon butter (see below).
Equipment
Mix 3 tablespoons of strong cinnamon sugar (half and half) with half a packet of soft butter – re-chill and use as needed.