March 30, 2017 | Leave a comment
This weekend 31st March – 2nd April 2017 we are serving Swedish, Danish and Norwegian hotdogs. Or just tell us how you like it.
ALL WEEKEND – only £2 each (usual price £3). 
Enjoy with a cold Tuborg beer for just £5
How to hotdog the Scandi way
Look, we have told the world that we're all about nature. That we forage for weird plants, eat sour milk and lead wholesome, healthy lagom lives. This is, of course, sort of true.
Except on weekends.
Come Friday night – also known as Fredagsmys / Fredagshygge, all bets are off and we can eat crisps and other treats. On Saturday, we eat sweets. By Sunday, we go back to being wholesome again.
There is another little thing that we Scandinavians 'do', though. A lot. We hotdog. Okay, it's not a verb, but it should be – and we want to hotdog with you, too.
What's so good about a Scandi Hotdog? The ones you get in IKEA (the 50p ones – where you only have to spend £422 on bookshelves and candles before you get one) are not quite a true representatives of a true Scandi Hotdog. No, no.
The Sausage
Obviously, the most important part. There are many varieties, but the best ones are rather high meat content (go figure) – brands such as small food producer Per I Viken do the best ones on the market. The style of sausage in Scandinavian is always a wiener type sausage.
In Denmark, they like RED coloured sausages. Why? It started as a bit of a ploy. In the olden days, the hotdog vendors were allowed to sell yesterday's sausages for pittance to the kids – BUT they had to add red colouring to the water so people know they were getting old sausages. Nowadays, this type is the most famous of them all – and no, they are no longer old, but are just made like this.
Only the Danes like these. They are delicious, but don't try to get a Swede to pick one –the red thing, it's a Danish thing.
The Bread
It's a funny one, but we don't like long buns. Our buns are short and way too small for the sausage. Yeah, we know – but that's how we like them. We don't do long buns. We do good, shorter buns.
Toppings
We take our topping serious. Go to the bottom of this post for the country specific 'ways' – but here is a low-down:
Ketchup
It's never Heinz. It's usually a more spiced variety that is made for our hotdogs. Try Idun for a Norway style – or Bähncke for a superb Danish ketchup.
Mustard
Again, Bähncke is a good one – or Idun from Norway, especially for hotdogs. We also have Swedish Slotts mustard, but it is quite strong, so only for the initiated.
Remoulade
Essential, if you are a Dane. It's very nice, too.
Crispy onions
Delicious on burgers, hotdogs, sandwiches.
Raw onions
The Danes favour this. We like raw.
Pickles
Several options here. Boston Pickles is chopped pickles from Sweden, with a bit of seasoning. Or go for the ever popular Smörgåsgurka from Sweden – a crunchy pickle, quite sweet. Lastly, the Danish Agurkesalat – thinly sliced pickles – perfect on top of those red sausages.
Gurkmajonäs
Chopped pickles (usually smörgåsgurka) mixed with mayonnaise – favoured by Swedes.
The HotDogs
Denmark
A bun, a red sausage, ketchup, mustard, remoulade, raw OR crispy onions. Or both. Pickled Agurkesalat.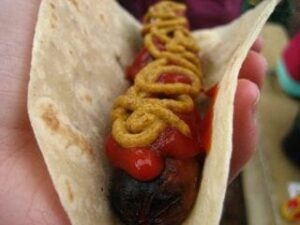 Norway
A potato pancake called a lompe, brown pølse sausage, ketchup, mustard.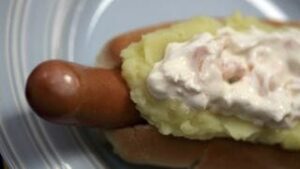 Sweden
A bun, a brown wienerkorv, ketchup, mustard, Bostongurka or Gurkmajonäs.
Sweden 2: The above, but with a dollop of mashed potato on top. Known as Halv Special (A Half Special). Add another Sausage as it is Hel Special (Full Special)
Sweden 3: Bun, sausage, prawn mayonnaise. Well, yes, it's a thing. Some add ketchup, too. And yes, some add mash as well. It's a Swedish thing.
This weekend 31st March – 2nd April 2017 we are serving Swedish, Danish and Norwegian hotdogs. Or just tell us how you like it.
ALL WEEKEND – only £2 each (usual price £3). 
Enjoy with a cold Tuborg beer for just £5