June 30, 2014 | 2 Comments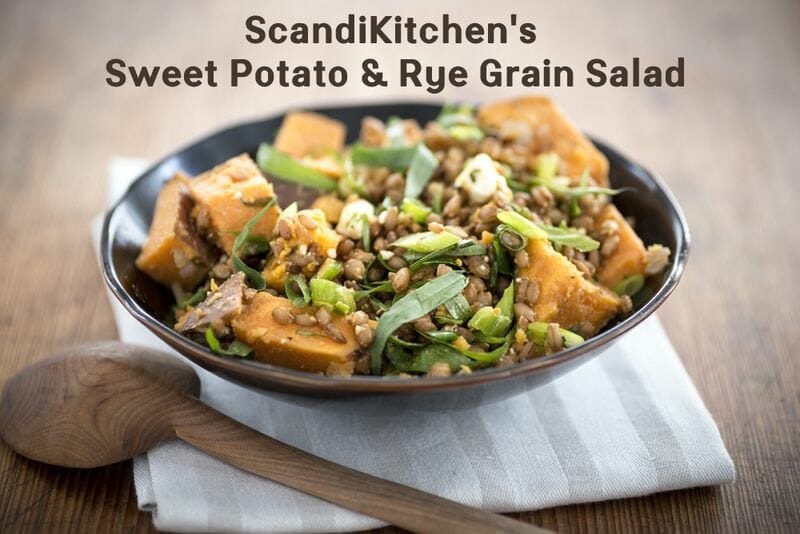 Print Recipe
Sweet Potato & Rye Grain Salad
We get asked for this recipe so much that, in the end, we simply decided it had to be shared with the world. It is not a traditional Nordic recipe, but rather one that draws on all the flavours we love so much. The tarragon has the aniseed type flavour, the rye is our staple... The sweetness of the potatoes. It all simply adds up to one amazing dish that only takes about 25 minutes to put together if your grains are soaked.
Ingredients
2

cups

rye grains

(or whole wheat, spelt or other grain)

6

sweet potatoes

depending on size

1

bunch

tarragon

1

bunch

spring onion

200

g

feta

dash of

balsamic vinegar

olive oil

seasoning
Instructions
Starting one day in advance: Soak the rye grains (or whole wheat) overnight in double the amount of water.

The next day, drain and rinse the grains. Place in a large pot with a good pinch of salt and cook for approx. 25 mins (from boiling), or until tender. Drain and allow to cool completely (cooked grains keeps for a few days in the fridge and can be made ahead).

Wash and slice sweet potato (skin on) into chunky sized pieces, toss with olive oil, salt and pepper. Place on tray and roast at 160 degrees C, turning occasionally, until cooked through (but not over cooked).


Separate the leaves of the tarragon from the stalks, place in a bowl, discard the stalks. Remove the first outer layer from the spring onions, then slice finely at a large angle (tops included). Add to the tarragon.

With your fingers lightly crumble the feta into the same bowl. Lastly, add the part cooled sweet potatoes and fold gently.

Adjust seasoning with balsamic, salt and pepper and more oil, if needed.

The grains can be cooked on the day without soaking - however, soaking allows for a more even texture throughout the grain and shortens the cooking time.