March 22, 2018 | Leave a comment
Waffle Day 2018 / Våffeldagen 2018

25th March is International Day of Waffles. This day is very celebrated in Scandinavia, but no places more than in Sweden where it is seen as a great excuse to have more waffles than normal! It is also celebrated in Churches, as it is Our Lady's Day – in Swedish, this is called Vårfrudagen – and this apparently got misunderstood so it became Våffledagen (Waffle Day) – an easy mistake to make, but now we get to celebrate both on the same day.
Scandinavian waffles are made in a waffle iron that is heart shaped – usually 5 little hearts make up one waffle. You can buy these waffle irons online and in places such as Clas Ohlson 
If you have a different waffle iron, by all means, you can use this too but your yield and cooking time will be slightly different, so use common sense.
We're making waffles this Friday, Saturday and Sunday at the café (we usually do anyway, but this weekend we're adding specials, too!).
We thought we'd also give you some handy hints and recipes to make some as home as well – using the same base recipe, but getting lots of different, exciting results.
There are hundred of different waffle recipes. Literally. This one is from Bronte's book Fika & Hygge and comes via her Mother-in-Law Eva who makes these when they are all together in the cottage in the North of Sweden, skiing over the winter months. It is a simple recipe – containing no sugar or egg – and you get wonderfully crispy waffles. We warned, though, the waffles need to be eaten straight out of the waffle iron or they go soggy.
One recipe makes around 7-8 waffles. We usually double it!
Basic Frasvåfflor recipe
150g melted butter
300g plain flour
250ml whole milk
250ml water
2 tsp baking powder
Pinch of salt
Method
Mix ingredients together to form a smooth batter. Turn your waffle iron on and make your waffles. Depending on your waffle iron you may need to brush the waffle iron with a bit of butter (but most these days are completely non stick).
Here comes our different toppings….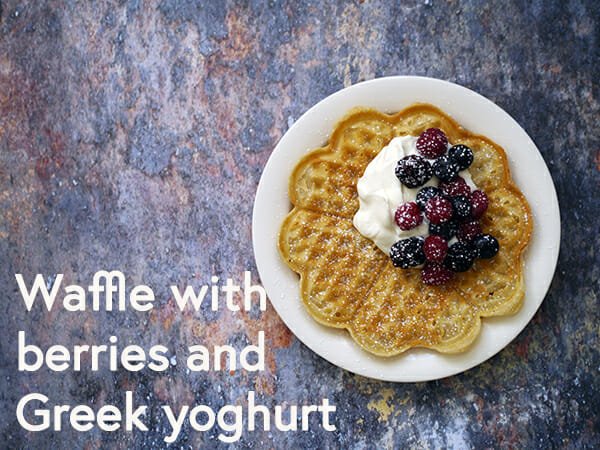 The Healthier one
Top your waffles with fresh berries and a good dollop of thick set Greek yoghurt. If you want to make it extra indulgent, add vanilla bean to the yoghurt and a bit of icing sugar to sweeten. Vanilla syrup optional.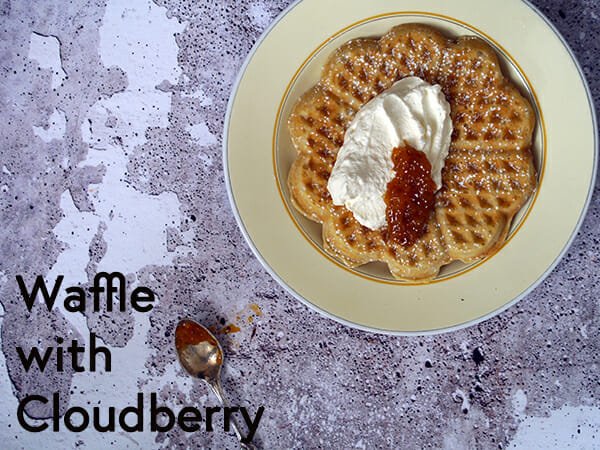 The Ski lodge Waffle
This is the waffle served everywhere in the ski reports and mountains of Sweden: Whip some cream, add a bit of vanilla to it… And serve the waffle hot, with a dollop of whipped cream and a good spoonful of cloudberry jam.
Cloudberry jam is not cheap – but it is worth it. Absolutely perfect for waffles. If you can't get cloudberry, use any other jam.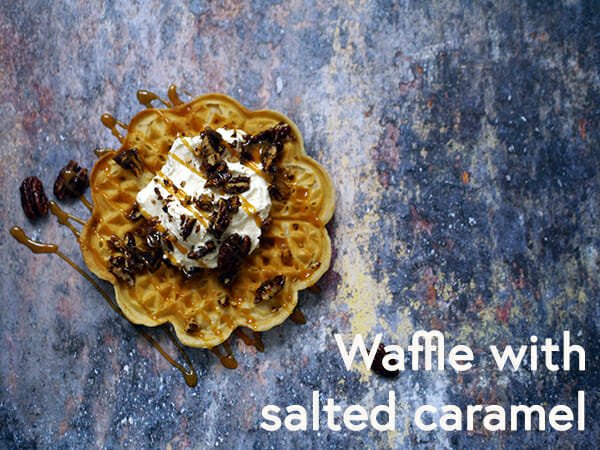 Salted Caramel
Ah, this one is delicious… We made some caramelized pecans (80g sugar, 20g butter on a pan… melt and heat until caramelized, then add the pecans, stir until coated and then allow to cool and set – then we chopped them and drizzled on top). But any toasted nuts will do…
Add a dollop of whipped cream – or ice cream – and top with nuts and salted caramel sauce.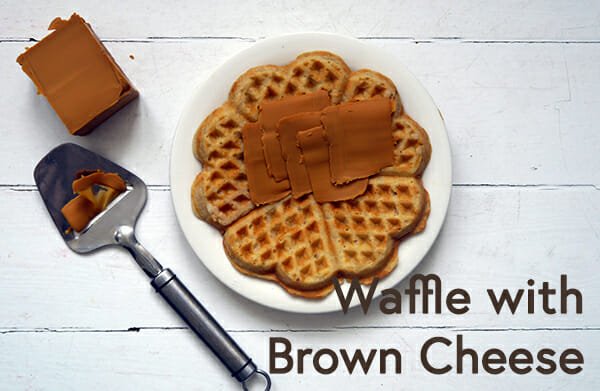 Brown Cheese
This is the Norwegian favourite – a must to try when in Norway. Brown Cheese is a wonderful goats cheese that has a caramel flavour (yes, we know how this sounds, but it works). Simple does it: Slices of brown cheese on warm waffles and you are almost Norwegian.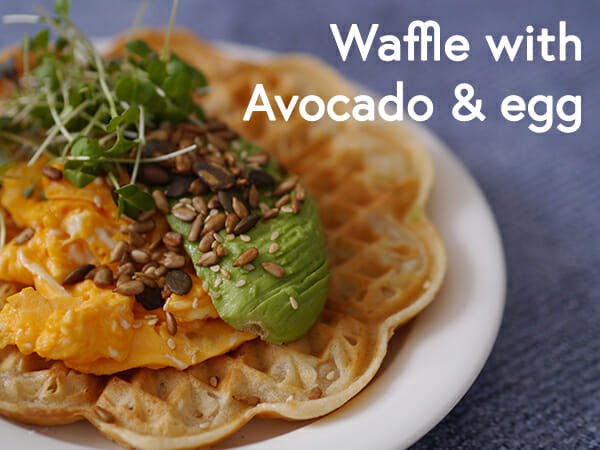 Avo & Egg
Ahhh, perfect veggie breakfast with a twist: Add half an avocado, some beautifully scrambled egg, micro herbs and seeds and you're set for the day.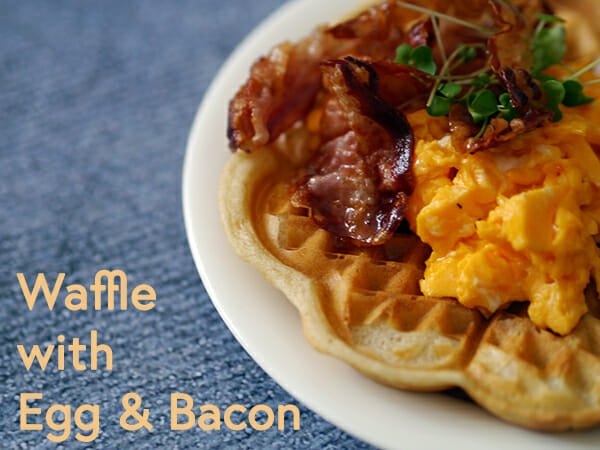 Bacon & Egg
Classic combo – although not often in Scandianvia, but it is so good we had to add it: Crispy fried pancetta, scrambled egg and a drizzle of maple syrup. We'll be serving this in the café this weekend in the mornings.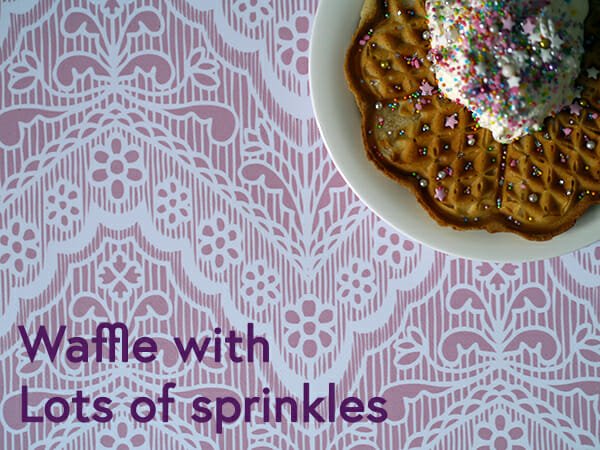 Festive
Why not make your waffle colourful? You can either add colour to the mixture to make rainbow waffles (you'll need several piping bags to do this as each colour has to be piped on directly to the waffle iron. We recommend using gel colour, not liquid food colour).
Or simply top your waffle with lots of colourful sprinkles. Also works with ice cream and a delicious raspberry dessert sauce, sprinkles, banana and probably some party hats…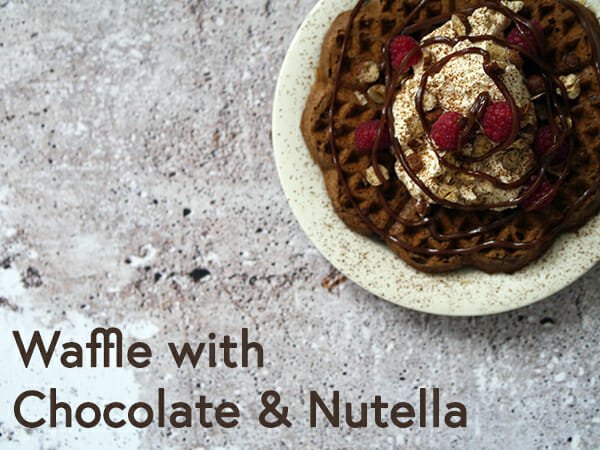 Chocolate
Classic combo – all you have to do is replace equal amount of flour in your recipe for cocoa powder. We usually do 3-5 tbsp depending on the cocoa quality. Cook as normal top with whipped cream and warmed Nutella sauce – and toasted hazelnuts and fresh raspberries. Chopped chocolate Maramou pieces optional, but delicious.
Semla waffle
No photo of this one because we eat it before we could shoot it, sorry. There's still time to enjoy a bit of semla before they go (our Lent buns), so make your waffles as normal but add ground cardamom to the mixture. Top with a sauce of grated marzipan, a dash of milk and/or custard and then whipped vanilla cream. And voila, you have waffles and semlor in one.
How do you prefer your waffle? Do you have a best-ever recipe you want to share? Leave comment below and share with the world.
See you at the Café in London this weekend 23rd, 24th and 25th March 2018 for an obscene amount of waffles!