September 22, 2016 | Leave a comment
Matpakke – An Intro To a Norwegian Packed Lunch
Ask any Norwegian what they had for lunch in school and the answer will be 'matpakke' (or nistepakke) – packed lunch. That's right, in Norway there's no school dinners or equivalent. The food you eat, you bring from home.
A packed lunch doesn't sound bad though? You may envisage lovely fresh salads, crusty baguettes with lots of filling or maybe dinner leftovers. But really, in most cases, it looks something like this;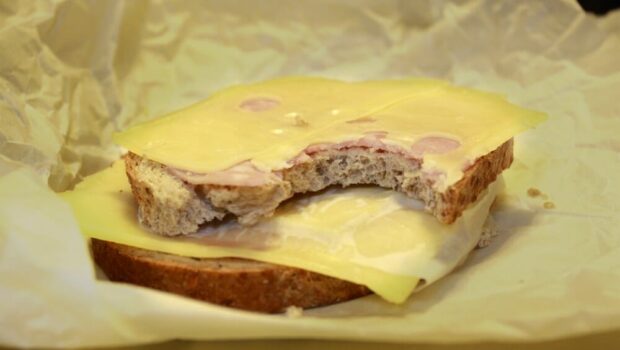 Two slices of bread – open sandwiches – with ham and cheese, for example. They come wrapped in greaseproof paper, with the all important mellomleggspapir*  inbetween each open sandwich.
*Mellomleggspapir are rectangular pieces of greaseproof paper bought specifically to keep your sandwiches from sticking to each other. Very often the only thing protecting your jam sandwich from the liver pate. However well-intended, most Norwegians can testify – the mellomleggspapir is usually just a tad too small too form a fully protective layer inbetween each sandwich – but hey – jam and liver pate isn't too bad (ikke sant?).
---
Matpakke is such an integrated part of the Norwegian 'folkesjel' – people-soul – that we even have a song written about it;
In case your Norwegian is a bit rusty – the gist of the song is that having your food in greaseproof paper instead of on a plate is a bit sad. The toppings are squashed, mixed up and stick to each other. Boo-hoo.
---
Despite having a ton of toppings to choose from, very many people will have the same topping every day for their entire school-career. 2 slices with salami and mayo every day for 7 years? Done. Tired of it? Yes. Bother changing it? But why would you?
Have you got any stories or memories of matpakke? We'd love to hear them.
Like this post? Share it on Facebook to spread the Matpakke-love – button below.