November 14, 2014 | 3 Comments
We have snow. Real snow. Lots of real delicious fluffy picture postcard snow.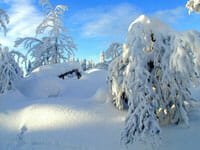 Our countryside looks like this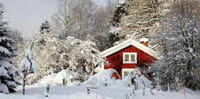 Santa is from up here.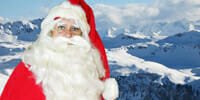 Okay, so we can't quite agree where he actually lives. The Danes believe he lives on Greenland. The rest think he lives in Lapland. Or in Finland. Or both. We do know, however, that he lives up here somewhere. He's one of us.
Father Christmas actually visits us for real. None of this 'He'll turn up while you're asleep' nonsense: We wait on Christmas eve and there he is. Okay, sometimes he's had too much glögg, sometimes he looks like your Uncle Björn. Sometimes both. But he's there, at your house.
We have Christmas elves.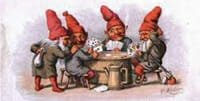 Actually, we have house elves all year round, but we believe in them mostly at Christmas time. Little mini elves with red Christmas hats – Lady elves, male elves… They live in our houses and barns and we put food out for them at Christmas time, because if we don't, every idiot knows they'll hide the remote control for the rest of the year.
We get to celebrate a day earlier than everybody else.
Our Christmas is 24th December in the evening. Some say this stems from Viking times when we believed a new day started as the sun went down – meaning at sun down on Christmas eve, we can celebrate. While everybody else has to wait until morning.
We have Julebryg.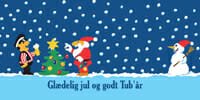 Delicious, amazing Christmas beer from Denmark. The fourth best selling beer in Denmark – despite only being on the market 10 weeks of the year. We have that, it's a thing. Try it.
We have Glögg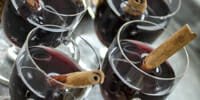 Red noses, red cheeks, sneaky kisses under the mistletoe.
It's also our thing. No, not mulled wine. We don't add drabs of left over stuff to our glögg, nor do we add half a litre of orange juice. No. We carefully blend spices, sugar and red wine… heat it up and add secret yuletide cheer to every pot. Why is Glögg so much better than mulled wine? Cardamom, pomerans, cinnamon cloves, ginger are the scents of a truly Scandinavian Christmas.
Turkey
Lucky us, we escape the turkey. Instead we have succulent roast pork… Or delicious sweet ham with mustard. Or dried lamb sticks. Or fish preserved in lye. Eh, yeah, lye. But it's delicious.
Pigs: Little pigs made of marzipan. Without these, nobody can win the prize in the almond game.
We hide an almond in the Christmas dessert. Find it and get the pig and status of Marzipan Pig Winner. It's prestigious.
A real tree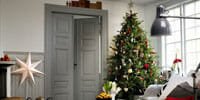 Real, like, from the real forest. We don't do plastic.
No tinsel.
We do clean lines, silver, gold and red. We don't do flimsy tinsel.
90th Birthday party
Okay, this is New Year, but it's as important as everything else. It's a 10 minute sketch from yonks ago. We like to watch it every year. The same sketch, the same exact one. We always laugh. Its shown the same time every year. Okay, it's a bit odd…
Donald Duck
We like to watch the same old seventies Donald Duck show, every year. At 4 pm on Christmas Eve. Everybody, the same time, every household (at least in Sweden). Also agree this may be a bit odd. In Norway, they watch '3 nuts for Cinderella' instead which is a really old 1980's Czech Tv movie about Cinderella and her, eh, three nuts.
Tree dancing
We hold hands and dance around the real Christmas tree. Together. The tree has real candles on it and someone usually singes their hair a bit. It all adds to the smell of Christmas.
Lucia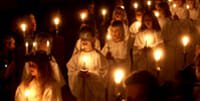 13th December each year, we have the day of St Lucia, the festival of light. Boys and girls dress in white long robes and form processions in every town, bearing candles. This is the darkest night – and the darkest morning, broken by the bearing of light to fend off the darkness and dark spirits. We drink glögg, a girl is the town's Lucia Bride and everybody knows it's Christmas again.
Ginger biscuits.
We own those. They are ours. We rule at ginger thins.
Saffron buns.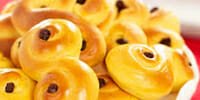 Swedes go nuts for anything with saffron, especially saffron buns. But other products containing saffron sell out too. Chocolate with saffron, other pastries with saffron. You can probably get saffron shampoo, too. Maybe. And saffron meatballs. Actually, that sounds gross.
Æbleskiver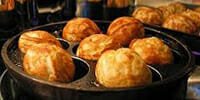 Little apple pancakes with no apples in them. So, like, doughballs. Dipped in sugar and jam. Danes go nuts for these. A great way to ensure you can have another Christmas beer.
Julmust
The Swedish Christmas coke. Outsells coke in Sweden every year. Coca Cola hates that. Swedes loves that. And nobody outside Sweden understands the obsession with Julmust.
Julebrus.
See above but replace Sweden with Norway. Norway's Christmas soda. It's a Norwegian thing.
Iceland has 13 different Santas.
Not content with just one, Iceland has 13 Santas, each one a Santa for a different reason and cause. Skyr Santa, Sausage Santa, Door slamming Santa and many more.
Christmas lasts a long time after Christmas.
We don't put up our decorations until December. We don't overdo it in the shops. We don't put up the tree until we need it. And we don't take it down on the 26th, either. We keep the tree until well into January sometime.
Fra alle os til alle jer:
God (for)Jul