June 19, 2018 | Leave a comment
Midsummer in Scandinavia

Midsummer, to Swedes especially, is one of the biggest celebrations of the year. In Sweden, the date moves each year, as it is an official holiday – and it is always celebrated on a Friday. With the official midsummer day of the year being 23 June, it is always moved to the closest Friday (for 2018, this is 22 June and 21 June for 2019). In Denmark and Norway, the date doesn't move – it is always celebrated on the evening of 23 June.
In Sweden, Midsommar is simply known as that, whereas in Denmark and Norway
the name has changed to St Hans Aften ('St John's Eve'). That's the official name, although it's also known as Midsommer.
As the longest day of the year, midsummer was a very important day in the pagan
calendar. The Vikings used this night to visit healing water wells and had huge bonfires to ward off evil spirits. These celebrations go back to Freyia and Freyr, the Norse gods of fertility. The Vikings worshipped fertility on this day – and hoped for a rich harvest.
Today, you see the remains of these old traditions both in Sweden and Denmark.
Sweden's midsummer symbol is now a midsummer pole, Midsommarstång, decorated with flowers. (It was originally a Maypole, likely brought over from Germany, but there weren't enough flowers to decorate it in May so it is now used in June instead.) In Denmark and Norway (and parts of Finland), the bonfires won out and are still the main symbol of midsummer.
In Sweden, schools and offices close and it is the time for friends and families to get together. People wear flower garlands in their hair; some wear traditional dresses or just long, light-coloured dresses. Younger men wear traditional accepted Stockholm clothing for Swedish dudes: light-coloured, tight trousers, pointy shoes, fashionable sunglasses and slicked-back hair. Maybe a crown of flowers.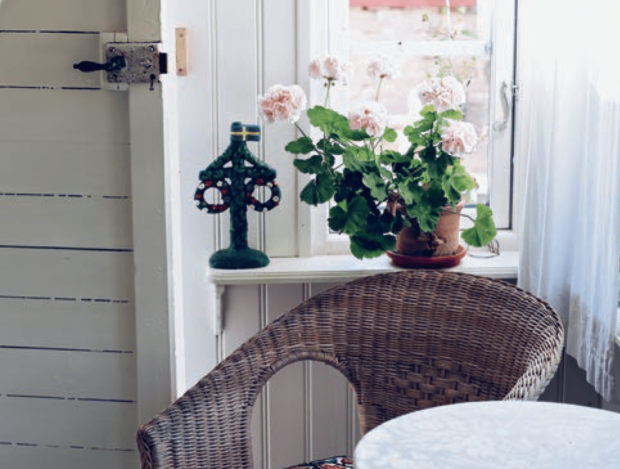 The flower garlands are a major part of the outfit. Most people make their own while
sitting in a field, waiting to celebrate and for someone to crack open the aquavit. People gather wild flowers and the garlands are made for grown-ups as well as children. This adds to the picture-perfect setting – everything becomes wonderfully colourful and happy, as people sit in nature and enjoy the lightest day of the year.
Thus properly attired, they gather to raise the midsummer pole, which is decorated with more flowers and leaves and can be anything from small poles in private
gardens to massive poles in the town centers.
Where food is concerned, everybody brings a picnic or has a midsummer lunch together. Lunch always consists of pickled herring, new potatoes with dill, meatballs, cheese… Not dissimilar to food at other Swedish celebrations, but with a lot more strawberries, as these are usually just in season when midsummer comes around. This is also a big day for smörgåstårta – a popular dish for high seasons. Essentially, this is a massive sandwich made with white bread, covered in a litre of mayonnaise and decorated in the best 1980's style. Then eaten like a cake, by the slice. With this, people enjoy aquavit, in shots (nubbe). Roughly one shot to every two beers and Bjørn will be playing footsie with Gunhilde before you know it.
Drinking songs, such as 'Helan går', are sung, shots are enjoyed and after a few of those, almost everybody will feel ready to dance. Don't worry if you can't sing songs in Swedish, after two or three nubbar, people automatically develop a peculiar singsong fluency in Swedish. The party then gathers around the midsummer pole to hold hands and starts to run around in circles, pretending to be little frogs with no ears and tail. This is the traditional Swedish song – sung at every party – called 'Små grodarna' (the 'Little Frogs'). If you are ever invited to join in, you must oblige. It would be rude not to and nobody feels embarrassed about this dance. Once it's over, you'll be allowed to get back to more food and aquavit.
The afternoon is usually spent playing games, such as Kubb (Viking chess) and an odd version of rounders called Bränball. When people have finished eating and playing, the dancing continues – as does the drinking. The party will go on until last man standing, with darkness never setting on this lightest day of the year.
On this night, it is also tradition to pick seven different kinds of wild flowers. Put them under your pillow before going to bed and you will dream of the person you will marry. This makes Tinder-swiping a whole lot easier as you will now know what he or she looks like.
In Denmark and Norway, people are a little more controlled in their midsummer celebrations. It is not a public holiday and, while it is still a big celebration, it is by no means as big as in Sweden. The celebrations centre around big bonfires, usually by the shore or in town centres. Bonfires, originally intended to ward off evil spirits, have become slightly warped in Denmark over the years. Nowadays, they signify the burning of witches. Each bonfire has a witch made out of straw, dressed in old ladies' clothing and stuffed with whistle crackers. The fire is lit and everybody waits for the witch to catch fire, the whistles signifying her screams. Legend has it that, by doing this, you send the witch off to the Brocken mountain in Germany to dance with the Devil.
As they watch the witch burn, people sing songs about how much they love Denmark. There is usually a guy with a guitar and no socks. He plays songs slowly, with his eyes closed. There may or may not be skinny dipping. At midsummer in Denmark, kids will usually be making snobrød ('twist bread') – its bread dough wrapped around .a twig and baked on the fire. Except it never bakes, so you everyone ends up with a stomach ache from eating raw dough covered in jam. The fire ends and people go home. Unlike Sweden, this isn't a massive party, but a much calmer affair (save the burning of witches, of course; some may find this rather sinister).
From the dancing and the ancient traditions to the seasonal food and togetherness, Midsummer in Scandinavia is an enchanted time and writing about it doesn't do it full justice. The light is entirely spellbinding – and it's something to be experienced. The day after Midsummer in Sweden, in particular, is a whole different ball game – and it's yours alone to deal with. The 'where are my shoes?' questions will inevitably start to be pondered on. Who are you? Who am I?
For anyone who has partaken of a traditional Swedish Midsummer, the day after is likely to be long – and very slow. But you'll always have the memories.
Or not.
—
ScandiKitchen is celebrating Midsummer – we even have a Midsummer pole and every year, we have to stop drunken Swedes from trying to walk off with it. All part of the fun. Stock up on your Midsummer foods in our London grocery store open every week day until 19:00 and Saturday until 18:00. Online here www.scandikitchen.co.uk
Extract MIDSUMMER taken from our Bronte's best selling book Nørth: how to live Scandinavian, published by Aurum, with stunning photography by Anna Jacobsen. Get your copy on Amazon – it has everything you need to know to live a Scandi life, from Hygge to Lagom to how to wear a Norwegian jumper.
Available in Italian here
Available in German here
Available in French here
In America? Get it here.
In Canada? Get it here?
Get it signed here (or pop by the cafe in London, Bronte will be super happy to sign it for you and have a chit chat if she is around. She is not at all scary)