April 7, 2016 | Leave a comment
Our favourite Viking facts
We are proud to come from the lands of the Vikings. Here are some great facts about our forefathers that we've collected this week.
Lots of us watched the excellent BBC documentary this week called The Vikings Uncovered with Dan Snow and Sarah Parcak  – highly recommend if you get the chance to see it.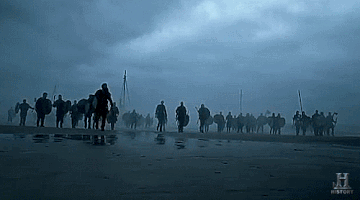 Viking is something you do, not something you are. The word Viking comes from the people from the Vik, (vik means bay). People who would sail off to other places were 'going viking'. The word Viking wasn't used in English until 19th Century – before this, we were just known as 'Norsemen' or 'Danes'.
The Vikings came from Sweden, Norway and Denmark. It was not known as one or several nations to the Vikings themselves – this definition came later. Lots of tribes and settlements that often fought each other when not busy travelling.
The first Vikings in the UK landed at Lindisfarme in 793. The stories from this visit are not particularly friendly and doesn't portray the Norse men in a very favourable light. After this, the Vikings settled over much of England, Scotland and Ireland. There may have been some disagreements with locals at times, but we found a way around it.
No Vikings ever wore a helmet with horns. Ever.
North America was first visited by Leif Eriksson in around year 1000. They called it Vinland. Leif was the son of Erik the Red (Eiríkr hinn rauði) who was an all round pretty nasty guy having been banished from Scandinavia to Iceland for being too violent. Erik the Red was likely very ginger, hence his name.
Ginger Viking was then in exile from Iceland for 3 years due to 'a few murders' and spent this time exploring Greenland. This resulted in the first big marketing ploy in history: Erik marketed Greenland as 'green and fruitful', encouraging people to join him in settling there. Once they got there, they were not pleased, but they made the best of it, whilst Erik went back to Iceland.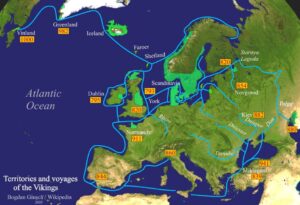 The Vikings settlements and journeys stretched from New Foundland all the way to the Middle East. We picked up spices in Constantinople, travelled through Kiev… Even made it to Jerusalem.
The Viking Age is commonly considered to have ended with the death of Harald Hardrada at the Battle of Stamford Bridge in 1066.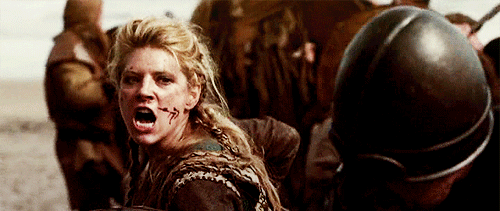 Viking women could divorce their husbands quite easily – for reasons including 'displaying too much chest hair'. After a divorce, men were required to pay maintenance. Women could also inherit property.
The word Beserk is a noun used to describe a Norse warrior who fought with uncontrolled ferocity – known as a Beserker. It comes form the Norse word 'Beserkr', from berr (bare i.e. without amour) and serkr (coat) .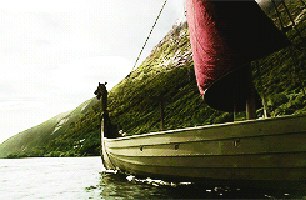 A long boat could travel up to 200km a day. The Vikings also had slower passenger and cargo ships called knörr (nothing to do with stock cubes).
A Viking long boat could take around 30,000 hours to build and wood from around 15 fully grown trees. They were usually built from oak – and 4000 nails.
Vikings used a liquid to start fires. They'd boil touchwood from fungus in urine for several days and then pound it into something similar to felt. The sodium nitrate would mean the felt would smother rather than burn, so they could bring fire along with them.
The traditional Northern English greeting "'Ey up" is Viking – it comes from 'se opp' (look up).
Icelandic genetics today show a lot of British trace – suggesting that the Vikings picked up British and Irish people along their way there. The Vikings were active slave traders – slaves were known as Thralls and sold on markets across the world.
The word Bluetooth comes from Harald Bluetooth, who was really good at making people get on with each other and 'connect'. The symbol we use for Bluetooth today is actually runes for his initials.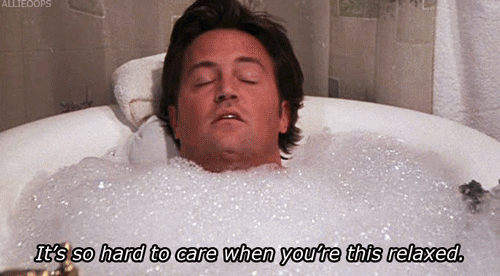 The Vikings were really clean people, especially compared to, say, the English at the time. The Vikings had baths on Saturdays (the word Lørdag, Saturday, comes from the Norse word Laug = 'bath''. In England, the Vikings had a reputation for excessive cleanliness.
Viking Men 'preferred' being blonde – some dark-haired men would bleach their hair (and sometimes beards) blonde using lye. (This also helped keep lice away – a total bonus).
Vikings worshipped the Norse god of skiing and also loved skiing for fun. God of Skiing's name was Ullr and was often depicted wearing skis and holding a bow and arrow.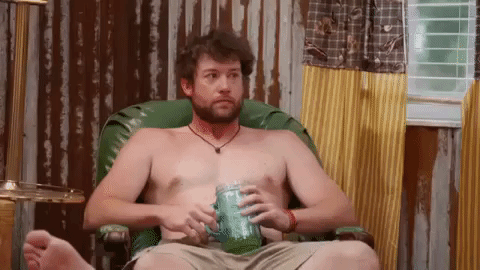 The medical name for a hangover, veisalgia, is an amalgam of the Greek  'algia' referring to pain and the Old Norse 'kveis', meaning the 'unease one feels after a period of debauchery'.
The Vikings had issues with the English sh-sound. Places like Shipton became Skipton. Most sk words in english are Viking in origin. We still have issues with the sh-sound today – many Swedes often mix up ch and sh sounds when speaking English (Shicken instead of chicken, shallenge, shild for child etc).
Vikings used an outdoor 'loo' and wiped their bums with moss and sheep's wool [How do we know these things? Really? – ed]
William the Conqueror was the grandson of Viking king Rollo – the Norsemen were just a few generations from the Normans.
Thank you also to Dr. Tina Paphitis PhD, our resident archaeologist who is leaving us this week to return to University of London. If you happen to have any fun projects for Tina that will mean her digging sites involving Viking stuff and folklore in any place on the planet, do contact us and we'll let her know.
——–
Disclaimer: While we will always try to be as correct as possible, no responsibility for facts in this article can be taken. We're a cafe with a nice blog, not fact keepers of all things Vikings. So double check before you use any of these in any official capacity what-so-ever. Just to be sure.
——–
Fancy some Viking food maybe?
Get 10% off your first order – just enter 'scandilife10' at checkout.