Seven things about Nordic Midsummer
The longest day of the year is very important to us Northern people. We have light! And not only that, we have so much of it we hardly see dark and we get to make up for all of those months of candle lit cosiness and snow.
We all celebrate the day slightly differently, so here are a few facts to get you started in the preparations.
Sweden treats Midsummer like it's national day. Actually, Sweden's national day is a few weeks earlier, but everybody celebrates Midsummer instead. It's always celebrated on the closest Friday (this year, 23rd June) and it's a public holiday.
In London, it's celebrated on the Saturday because we need to not be at work when we do it.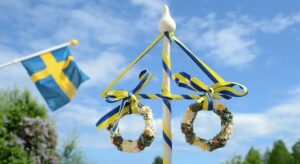 St John's Eve In Denmark and Norway, the evening is celebrated on the actual day (23rd June, no matter if it's a Friday or not) and there, it's called more St John's Eve as well as Midsommer Aften.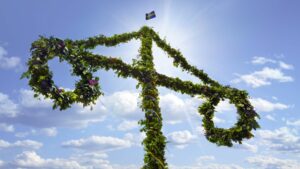 Sweden and Finland celebrate with Midsummer poles. These are a bit like May Poles, except it's not May and ours have a lot of fertility symbols associated with them. The Midsummer poles are covered in flowers and greenery. Everybody wears flower garlands in their hair and very summery clothes. Some people try the yellow/blue flag combo for clothes, but it is rarely a good look.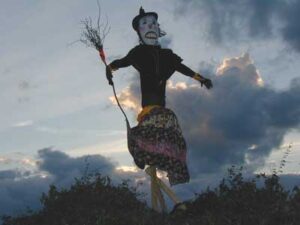 Danes burn witches on Midsummer eve. Much like the British burn Guy Forkes, the Danes like to burn witches on this evening and send them off to Blue Mountain in Germany to dance with the devil. All while the (usually stuffed hay effigy) witches are burning on the bonfire, Danes sing songs about how much they love Denmark (usually a lone guy on a guitar will lead the singing – he always sings with his eyes closed and is very serious).
It's still all about food. For the Swedes, it is all about the day long picnic and being outside. Meatballs are featured and it is high season for Sandwich cakes, too. The Danes tend to celebrate in the evening with dinner at home, but spend the evening trying to bake stick bread on the embers of the bon fire (it never works).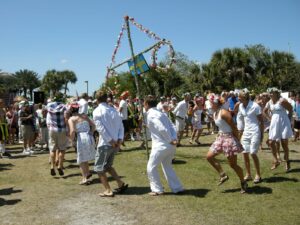 What about the little frogs? The Swedes, at every given opportunity but none more so than Midsummer, will sing songs about little frogs with no ears and no tails, whilst jumping around the Midsummer pole. Old, young, everyone. It's a thing and it looks odd – but it is super fun. Do join in.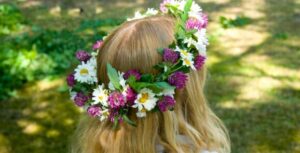 Swedes pick seven wild flowers on Midsummer eve and put them under their pillow. They will dream of the person they will marry. Some don't even wait that long, as the birth rate spikes in Sweden every year exactly nine months after Midsummer.
—
There are Midsummer events held all over the UK – both Danish, Swedish, Finnish and Norwegian. Local churches are a good place to start for information on where to go.
There is no big official London picnic (there never is – it's all a bit spontaneous) but people tend to gather in patches in the different parks and just bring a picnic. Ask local Scandies for details or just wander around and look for the people with flowers in their hair. You'll find them.
There is a massive official Midsummer Party in London in the evening of 24th June – arranged by London Swedes – it is at the Loft in Kilburn and you can buy tickets here