The Essential Guide to Scandi Cheese – Part 1
We first posted this no less than four years ago, and considering how much we love cheese it is due a re-visit – we consider it our duty to share the with you the wonders of Scandinavian cheese. Over the next two weeks we'll introduce six of our favourite cheeses.
To kick off we will give you a brief introduction to the many faces of Scandinavian cheese – because let's be frank – Scandinavian cheese doesn't have a very sexy reputation (with names like 'Old Ole and 'Old Cheese' we really don't get why).
—
Many of us have memories of sitting in a field on a summer's day eating crusty French bread and sharing a kilo of creamy Brie (also French). In fact, some of us would like nothing more than to spend most of our days doing just that, had it not been for the eventual need to be moved around by a pick-up truck.
Fewer people have such glorious thoughts when thinking about Scandinavian cheese – in fact, most people associate Scandinavian cheese with Eurovision. The exception is those – very few – of us who know just how many amazing cheeses actually come from our northern corner of the world.
Cheese has been made in Scandinavia since the days of old Harold Bluetooth, and the vikings reportedly had a diet rich in milk, butter and cheese – and it was thought to be a sexual stimulant.
—
Here's a brief introduction to some of the more famous Scandinavian cheeses.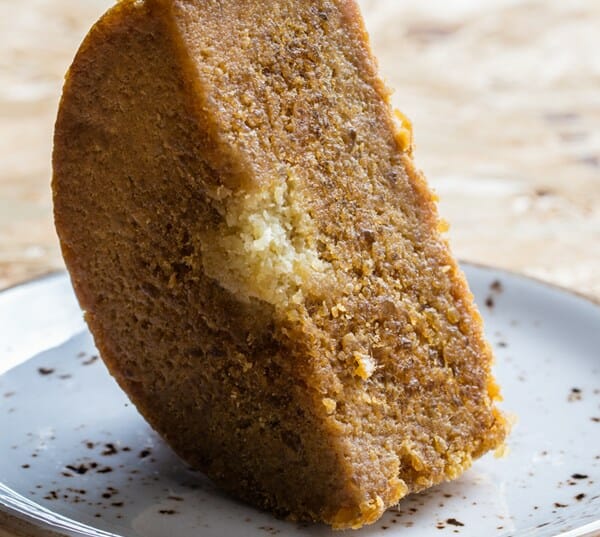 1. Gammelost (Old cheese)
A recipe dating back to the Viking times, 'Old cheese' needed very little help to mature. Most people say both taste and smell resembles something that has spent a few months inside a sweaty old sock. As you know, nothing pleases a true tyrophile more than a slice of stinky old sock. Admittedly, perhaps due to the taste, younger Norwegians are falling out of love with it, even if it is does have the nickname of Norwegian Viagra.
—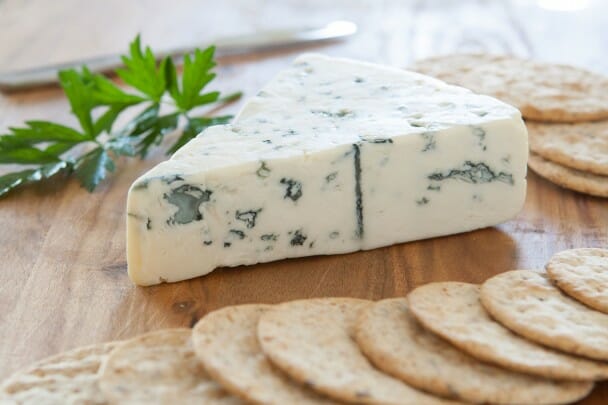 2. Danablu (Danish Blue)
We had to include this as it is the most popular Danish export cheese and it is a darn fine cheese. Invented originally to emulate Roquefort, and quickly making its own mark on the cheese scene, Danablu has a sharp, salty note and is excellent served on just about any kind of bread. Swedes tend to love blue cheese on ginger biscuits (we say don't argue with anyone who invented Billy bookcases, Volvos and the zipper) – and the rest of us agree. A match made in cheese-heaven.
—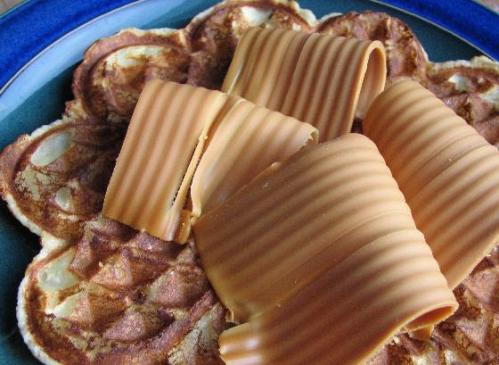 3. Brunost (Brown cheese)
Comes in many different varieties: the two best known are the Gudbrandsdalen (cow and goat) and Ekte Gjeitost (pure goat); the latter is the connoisseur's choice
Okay, so it's an acquired taste, but, vasterbottenon average, Norwegians eat about 4 kilos each of this stuff a year so there must be something to it. It's as Norwegian as trolls and fjords. It looks a bit like a block of plasticine, tastes a bit like caramel and is enjoyed on its own, on open sandwiches or with freshly baked waffles: all you need then is a patterned jumper and people will soon start calling you Håkon.
—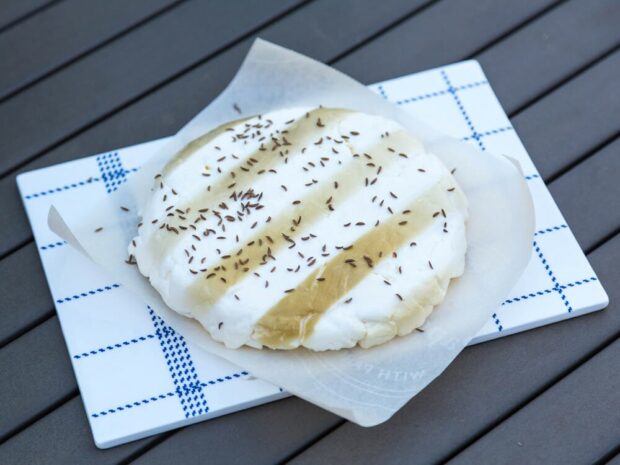 4. Rygeost (smoked cheese)
A very Danish invention that is never exported due to its very short shelf life. Unmatured, smoked cheese made from buttermilk and milk and turned in less than 24 hours, after which it is smoked very quickly over a mixture of straw and nettle and topped with caraway seeds. This cheese is simply amazing, light and divine eaten on a piece of rye bread. Resembles a firm ricotta in texture.
—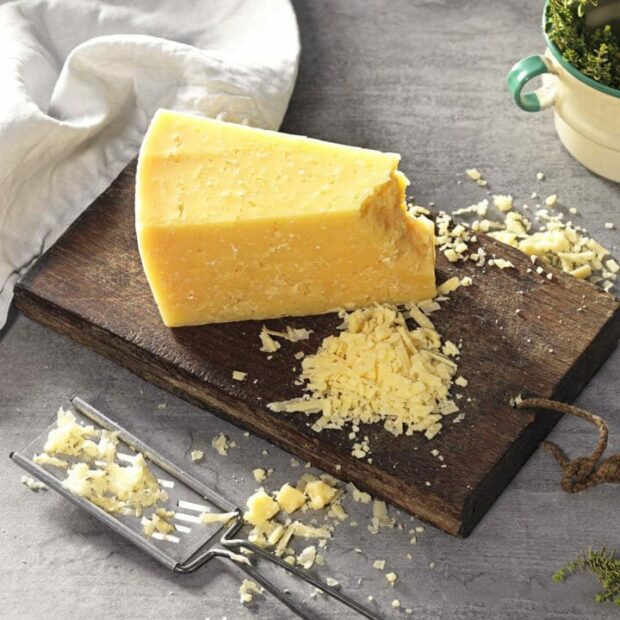 5. Västerbotten
If ABBA is the queen of cheese, Västerbotten is the king. A firm, kinda crumbly, aged Swedish cheese not unlike parmesan in smell but with immense flavour and character. This cheese is a welcome addition to any cheeseboard and is also a partner to any crayfish party. Can also be used to make the excellent Västerbotten pie.
—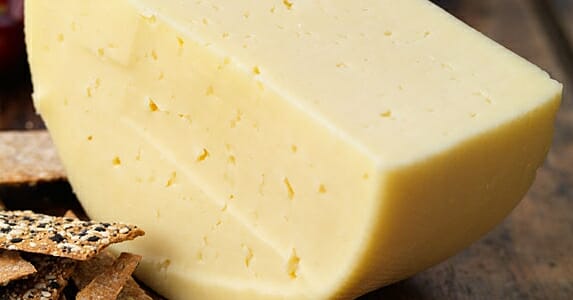 6. Hushållsost
A cheese that has a name that translates as "household cheese" sounds like it belongs on a value shelf in a corner shop in Hackney, but it is actually an excellent cheese. Mild, creamy and full of small holes, this cheese is usually a big hit with the younger generation. Hushållsost is one of six Swedish food products with a so-called TSG protection (only one other cheese, Svecia, also holds this distinction). Taste wise it is unoffensive and buttery – a good all-rounder.
—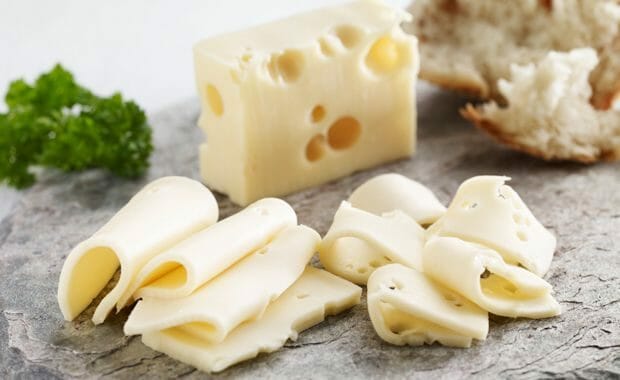 7. Gamle Ole (Old Ole)
A sliceable mature Danish cheese, this baby stinks. Oh yes. Don't touch it too much or your fingers will honk all day. The taste, however, is mellower and really lush. Also known in Denmark as Danbo 45, there are many varieties in the same vein: 'Sorte Sara' is another good version, popular in Norway.
—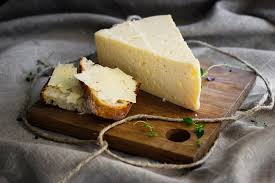 8. Prästost (Priest cheese)
Sweden's most popular cheese. It was given its name because the farmers at the time it was invented could pay their church taxes in dairy products. Prästost comes in many varieties, from the mild to the mature and flavoured with anything from vodka to whisky.
—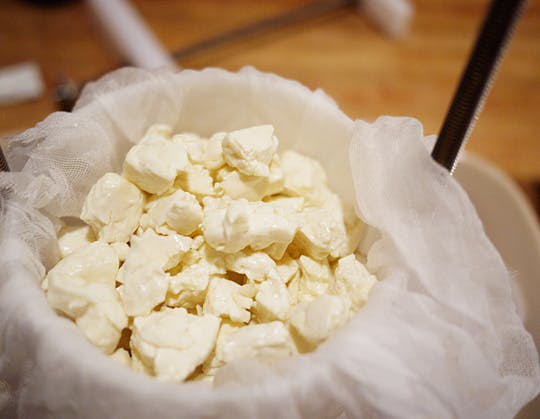 9. Leipäjuusto (also known as "squeaky cheese")
This is a fresh young cheese from Finland. The milk is curdled and set into a flat round shape, then baked. In the olden days it was dried for months and people put it on the fire to re-activate it. The name comes from the sound it makes when you bite into it. The taste is not unlike feta. Hugely popular – very difficult to export due to its fragile nature.
—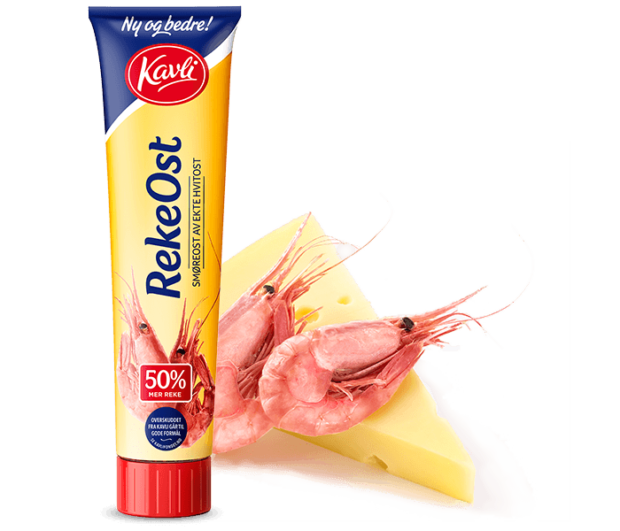 10. Rejeost (Prawn cheese)
For some reason, spreadable prawn cheese (ideally in a tube) is immensely popular across all of Scandinavia. Not really a great cheese from a connoisseur's point of view, but surely any product that manages to combine cheese and prawns and make it taste good needs a mention. If cheese and prawn can be coupled in peaceful harmony, then there's hope for world peace.
—