Gravlax & Potato Summer Salad
Posted by Bronte Aurell |
Food & Recipes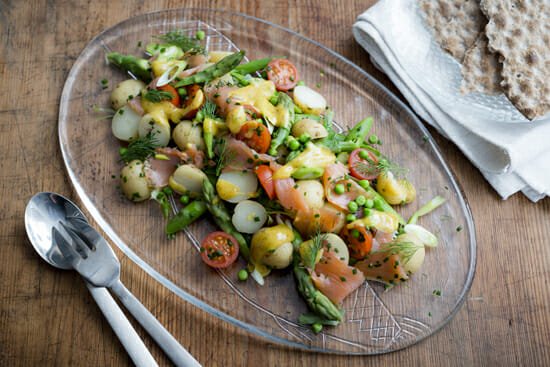 Serves 2-4 people.
This is a wonderful summery cured salmon salad. Perfect for any Smorgasbord. The ingredients can be changed to fit personal taste – sometimes, we add boiled egg to the recipe, or whatever crunchy veg we have in the fridge…
When we have this salad on at the café, it is one of the most popular salads. Healthy, filling, delicious and authentic all in one.
Ingredients
300g cooked, cooled new potatoes, halved
200g cured salmon (or normal smoked salmon, if you prefer)
100g green beans, blanched, cut into 3-4 cm pieces
150g blanched green asparagus, cooled, cut into 3-4 cm pieces
100g green peas, blanched, cooled
10 cherry tomatoes, halved
A handful of crunchy green leaves (from iceberg to frisee – which ever you prefer)
1/4 cucumber, cubed
1 tbs chopped chives
Sprigs of dill to decorate
Add all ingredients to a bowl and mix gently. Arrange on a serving tray and drizzle over 2 large tablespoons of dill and mustard dressing. You can buy ready made Dill & Mustard dressing here
Dill and mustard dressing – how to… (this will make a larger quantity than needed but you can keep it in the fridge for a week and use for sandwiches or other salads)
2 tbs of Swedish Mustard (we really like Slotts Senap)
1 tbs white vinegar
1 tsp sugar
A pinch of salt and pepper
100 ml of rapeseed oil
4 tbs finely chopped fresh dill
Mix mustard, sugar and vinegar in a bowl. Add the oil carefully, start by adding a few drops, then steadily adding a thin stream of oil to emulsify the dressing. If you add it too quickly it will split. Keep whisking until you have a good, creamy consistency. Add a little bit more oil if it is too thick.