Midsummer – like a Swede
Midsummer in Scandinavia. Think clear blue lakes, rolling green hills and lots of people running around barefoot, singing and dancing. Here's our little guide about how to be more like a Swede at Midsummer…
When?
Midsummer is the longest day of the year. Swedes (and Finns) celebrate it on the Friday that is closest to actual solstice. This year, Midsummer in Sweden is 19th June, but any Swede abroad will celebrate it on 20th because that is a Saturday, so this is much more convenient.
Most people think this is Swedish Midsummer…

Okay, so this is actually a bit true….
Midsummer is almost as big as Christmas and Eurovision. We take it very seriously. So, if you are planning on joining in, you need to know the basics.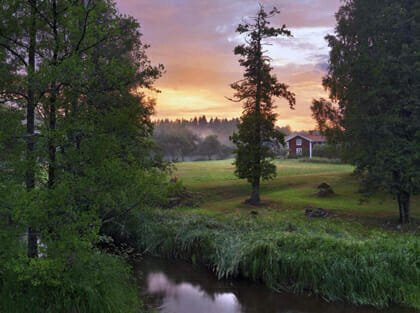 Nature
You need nature. Midsummer is not an indoor celebration. It's not possible to be authentic celebrating midsummer in a Hackney bedsit. Head to a park near you if you are in the city – such as Hyde Park (like a calling, Swedes randomly seem to gather there most years, although it is not an organised event).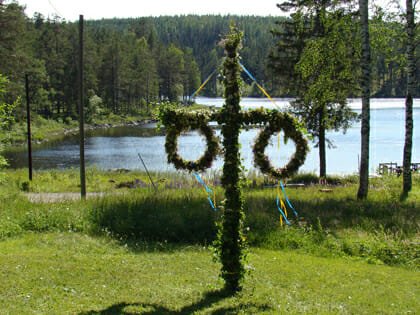 The Midsummer Pole (Midsommarstången)
Get a few wooden poles, put them in a cross, add two round balls and decorate with flowers. Yes, we know, it is an upside down willy. It is a big fertility ritual, really. Erect your pole in the grass.
It's basically a Maypole, but we don't have enough flowers to decorate it in May, so we wait until June.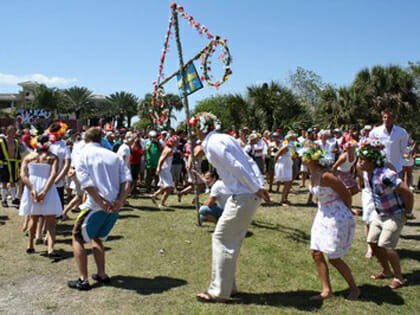 Dance like a frog
All Swedes know that the most natural thing in the world is to dance around the big phallic pole, pretending to be a little frog with no ear and no tail. Everybody joins in – old, young, drunk. Get the song here.
The food: Herring
Pack a picnic or make a buffet of the most delicious Scandi traditional foods.
Eating herring is essential. For midsummer, the delicious Matjes herring is the way forward. If anyone offers you something called Surströmming, tell them to go where the sun doesn't shine: It is fermented herring and it smells like gone-off dog poo (tastes okay, though). A word of advice: If you are going to go down the Surströmming route, be very careful not to get any of the brine on your clothes as your chances of finding mate for the evening will be reduced to below zero. Also, the tin is pressurised, so when you open it, the brine will squirt out. Just say no. If you don't believe us, watch this clip with our Jonas opening surstromming in Hyde Park.
The food: Strawberries.
You will need to include some strawberries in your picnic, as required by Swedish law (we think). Make a strawberry cake (Recipe here) or just bring a kilos along to share out. Rub yourself with strawberries to increase your overall appeal (this is not a proven method, but it might work, who knows).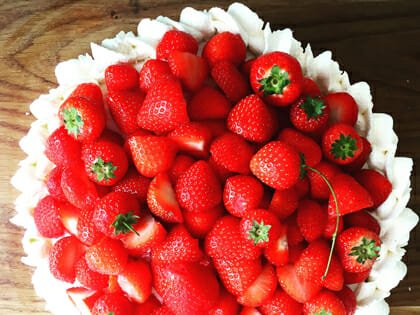 The food: Dill
The secret to making any dish 'traditionally Swedish': Just add dill.
Add to potatoes, add to salads, add to crisps and sandwiches. Just add dill. Then add a bit more. You can never have quite enough dill on things. No, you can't smoke it.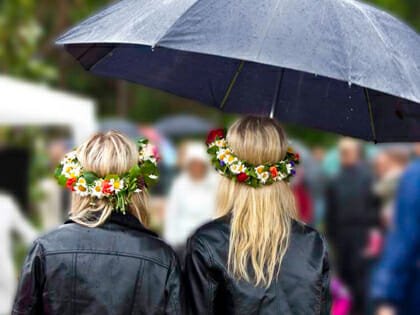 The weather
Guarenteed to rain. Then it will be sunny after. Every time.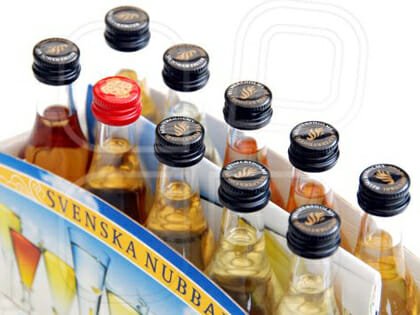 Aquavit
Swedes at Midsummer will be consuming a lot of aquavit. It's a strong alcohol made from grain and flavoured with dill, aniseed and caraway. We drink it in ice cold shots (nubbar), one after the other roughly 1 shot for every 2 beers consumed.
A few things to note: 1) It gets you drunk from the waist down first (i.e. no walking) and 2) It puts you in a slightly amorous mood. Fact: The birth rate in Sweden spikes nine months after Midsummer every year.
Someone will try to offer you the aquavit shot made from wormwood (it's the one called Bäska Droppar) – they do this because they don't want to drink it themselves its horrible)  and it is really funny to see non-Swedes try it. Polite refuse and say you know what they're up to.
Clothing
Ladies tend to wear white dresses or very flowery frocks. A bit like a Laura Ashley showroom, but worn by really pretty people who look like goddesses sent from a different planet to save humanity. Or something.
Men tend to wear what they normally wear to look very Swedish: tight light-coloured trousers, pointy shoes, gelled slicked back hair, a pink shirt and maybe a crown of flowers. Sunglasses essential.
Some people wear traditional dress. If you are not Swedish, it will just make you look like a bit of a twig, so don't go there. And whatever you do, please, no blue-yellow clothes combos. Bring flags instead. As many as you can carry (this will make you everybody's best friend).
Drinking songs
There are many, many different drinking songs to learn, but if you make an effort and learn 'Helan Går', you'll be the Måns Zelmerlov hero of the night. Don't worry too much if you don't get around to learning it, most people are automatically fluent in Swedish after 2 shots of aquavit. If you overdo the aquavit, you may end up sounding Danish. don't worry, this is not a bad thing, the Swedes will assume you brought cheap beer and will possibly try to befriend you.

Games people play
Don't be surprised if you are invited to take part in a tug-of-war, egg and spoon race or a game of 'kubb'. Kubb is a Swedish game involving some wooden sticks and some very drunk men falling about laughing. As far as we can tell, there are no rules (except the ones the drunk Swedes make up on the day).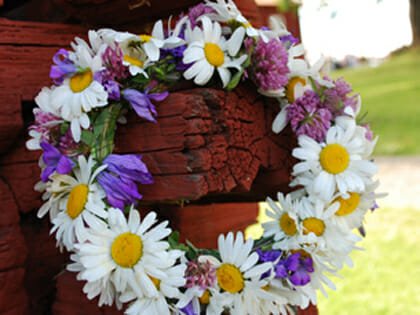 Flowers in your hair
This applies to everybody. We all do it. Old, young, man, woman – get some flowers in your hair. Kudos if you make your own garland, but you can get hold of cheapie artificial ones at most H&M shops. Flower garlands look especially good on bald, middle aged men.
Superstition
Legend says that if you pick seven different wild flowers and put them under your pillow at night, you will dream of the person you will marry. This makes the Tinder-swiping a lot easier going forward if you already know what he or she looks like.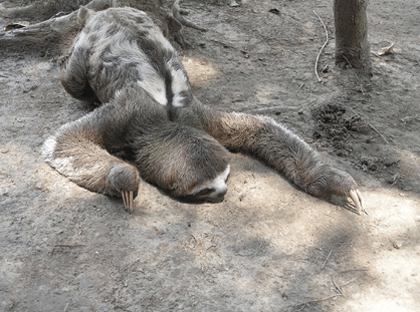 The hangover
It's yours to deal with, all alone. Enjoy. Hurdy Gurdy.
Glad Midsommar!
We are selling out ready to pick up Swedish picnic boxes – booking taken up until 3 days before the event, so just click HERE to order. A box for 4 people costs just £50 (£12.50 per person).
Love, The Kitchen People x