7 Steps to a Swedish Crayfish Party
Posted by Martina Wade |
Food & Recipes
,
Fun stuff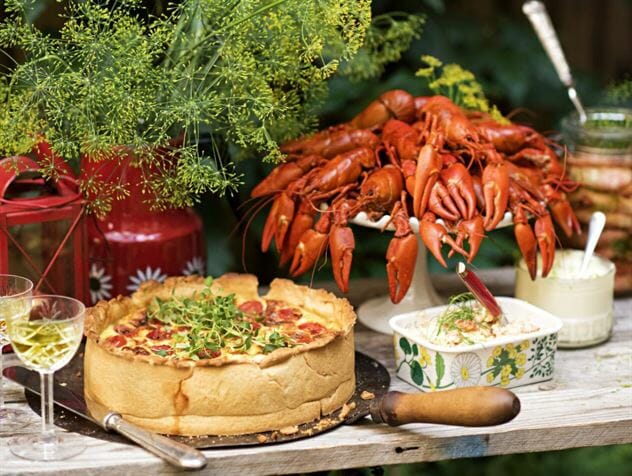 How to host a Crayfish Party
Invite a bunch of friends over to yours.
The setting: Outside in the fresh air, ideally – but if you have to be inside, decorate with lots of greenery and bring the outdoors inside. This is a celebration of the last of summer.
Get the crayfish: a good guide is around 500g per person (1 box is a kilo). Defrost for 24 hours in fridge before using. Decorate with fresh dill sprigs.
Hats, bibs and serviettes and man in the moon lanterns all add to the festive feelings. Bibs are practical, hats just make you look silly.
What to serve? Bowls of crayfish, VästerbottenCheese tart, some nice salads (beetroot salad and potato salad are good choices). Crusty bread and crispbread on the side – with more cheese (Västerbotten is the traditional choice) on the side. Some dips and dressings – mayonnaise, aioli and romsås. If you're worried there won't be enough food, just add some Smorgasbord essentials such as meatballs, smoked salmon, herring and sliced meats.
is a must. Little shots are essential – one per claw, the Swedes say, but mind how you go on the strong stuff, it tends to affect people from the feet and up. Singing is not optional – it adds to the mood. Swedish language skills improve greatly as the evening goes on.
Music: Sing-a-long-stuff works. ABBA is a must!
Comments
Payment types accepted
Secure Shopping with
Free shipping on orders over £60
PLEASE NOTE our webshop is now closed, no new orders will be accepted until the 25th of Dec when we re-open. If you have already placed your order don't worry - we will ship it as soon as possible. Our central London cafe & shop is open and fully stocked until 6pm Dec. 23rd - our lovely team is there to help.